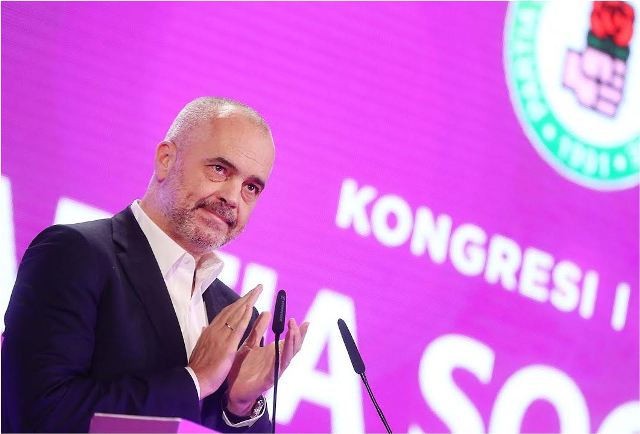 Tirana, 21 March 2016/Independent Balkan News Agency
In Albania, the congress of the Socialist Party held during the weekend, decided to announce a referendum for all the members of this party. They will answer whether they agree for elections to be held for the new leader of the party.
This referendum was demanded by Edi Rama, current leader of this party and it was approved by the congress.
The referendum follows the criticism addressed by a part of the SP and public opinion, due to the fact that Rama has not held fresh elections for the leader of the party within the SP.
SP critics say that for several years, Rama has been occupying the post of the chairman illegally and is not allowing the holding of elections for the party leader.
Rama himself has declared that he is against the holding of elections for the leader of the party because this would oblige the SP to invest in tiring processes that take time and weaken the work of the government.
The announcement of the referendum was seen as a paradox by Rama's critics. They say that it is unacceptable to refuse elections for the party's leader, while holding a referendum to ask if the members agree on holding elections. If the referendum would result in favor of the elections, then this party would invest twice in an abusive way.
The referendum will be held on 9 April 2016 and it will see the participation of around 100 thousand members of the Socialist Party.
The decision for a referendum was considered absurd by Rama's strongest critic, Ben Blushi, who is also a candidate for the leader of this party.
"Something which goes against every democratic practice was approved. We have a referendum without a question. We have a race where Edi Rama competes against Edi Rama", Blushi says.
According to him, "here we have a case of sanctioning an 8 year practice of the functioning of the SP and a case of usurping the party".
"Referendums cannot replace the elections, otherwise there would be no elections in Albania, Germany or Europe", Blushi says, adding that he will not accept the referendum.
According to the head of the Socialist Party, Edi Rama, Blushi's criticism is unfair. "The SP is a party where rebels are praised. SP's history shows this, but on the other hand, the SP acts immediately when rebellion goes beyond the principles and joint values", Mr. Rama said.
The socialist leader and prime minister considers Blushi's incentive as an effort to overthrow the government. "The issue is an entirely personal agenda. The alibis for the bylaws are given to overthrow the Socialist Party government. This is unbearable".
According to the SP bylaws, the head of this party is at the same time a prime minister, when the party wins the elections or becomes the first governing force in the country. /ibna/