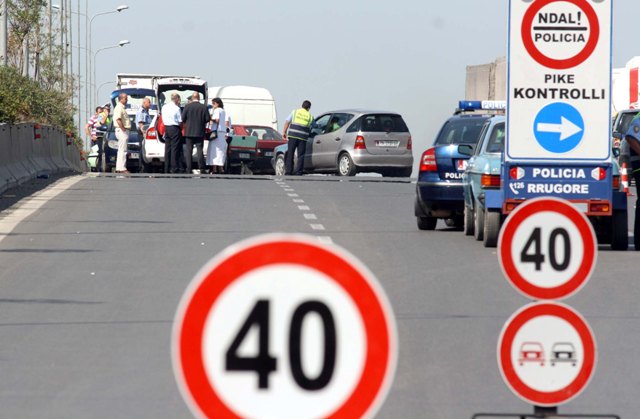 IBNA Special Report
Tirana, October 16, 2014/Independent Balkan News Agency
The Road Code of the Republic of Albania sees new amendments within a short period of time. These amendments differ from the drastic measures which were taken in 2013 and which were approved with political consensus.
The changes relate to financial penalty measures for those who are involved in accidents which damage road signals and road infrastructure in the country. These changes increase fines by ten times.
Will the number of accidents fall?
An Albanian citizen from Turin, Italy, lost control of his vehicle and veered off the road as he was driving his vehicle. He damaged a part of the side barrier and a lamp post. In order to come back to Albania, he had to prove that he had paid the value of damage that he had caused to the road, a value which amounted to 8 thousand Euros. After he threw his ruined car and paid the damage for the road, the citizen traveled to Albania by ferry. A few weeks later, when he went back there, he saw that the damaged part had gone back to normality.
This case is a concrete case of how road users outside Albania end up if they are involved in accidents. This also happens in the neighboring FYROM, which is not an EU member country. An Albanian citizens told IBNA about a similar case, when he had to pay an expensive bill when he was involved in a road accident.
Another situation occurred in Albania. When roads and its elements are destroyed, the last thing that people involved in non fatal accidents is to pay the damage. Even the fines which are issued are not enough to pay for the damaged parts.
This is why in different roads of the country, when accidents that happen damage the infrastructure, if one goes back there, one will find the damages at the same situation, or even worse.
To change this situation, the government has decided to harmonize the EU legislation.
Ministry of Transport has included not only the accident damages, but also intentional damages. "Ten times bigger fines in cases when damages, graffiti or any other writing in road signals has a direct impact in road safety. The offenders must also bring the road back to its initial state".
There will also be fines for those who put adverts or unauthorized notices in the perimeter of the road.
Other changes
Other changes that are expected to bring novelties are those concerning the health of the drivers. Therefore, in order to be issued with their license, they must undergo two new tests.
Ministry of Transport says that the ability and responsibility of drivers is a prerequisite for safe roads. For this reason, it has demanded health and psychological checks for the candidates who will be issued with driver licenses and a document which shows that the new driver is not alcoholic or a drug addict.
"All of those persons who are addicted to alcohol or narcotic substances will not be equipped with driver licenses. For this, every road user must produce a medical document that he's not an alcoholic or drug addict", IBNA learned from official sources from the ministry of Transport.
The other change relates to the fact that people who drive children to school, must have a special permit to do this. Expert Ulsi Manja has worked on this bill and has presented it in parliament. "According to the bill, drivers must equip their vehicles with a special seat for children under the age of 12. People who will offer transport of passengers, will be equipped with a special driver's license", said Mr. Manja.
Will the number of accidents go down?
According to the Ministry of Transport, in 2013, there were 773 serious accidents which led to the death of 295 people. The government is hoping to reduce the number of accidents by 20% next year with the introduction of the new changes in the Road Code.  "We predict accidents leading to death to go down by 20%. So far, this figure is 23% lower than last year", says Maksim Tashi, expert of the ministry of Transport.
But, expert figures are seen with criticism in parliament. The head of the parliamentary law committee and former minister of Justice, Fatmir Xhafaj, suggests that the arguments of the ministry of Transport are mere claims. "How can we predict deaths on the road? Are we playing the role of funeral agencies", says Xhafa with a touch of irony. /ibna/