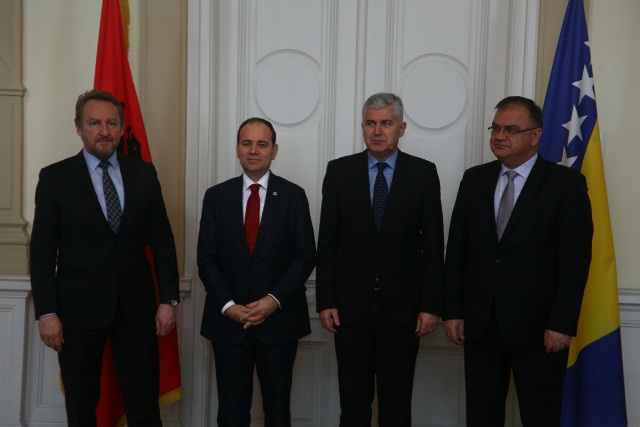 Belgrade, February 24, 2016/Independent Balkan News Agency
By Mladen Dragojlovic
Albanian president Bujar Nishani visited Sarajevo on Wednesday and had a meeting with BiH Presidency members. During the visit, Nishani also met with members of BiH Parliament and organized a dinner for Albanian citizens who live in the BiH capital.
During meeting with Presidency members the participants discussed several issues important for bilateral relations between the two countries. At the press conference after meeting, they said that themes were security in this part of region. They also discussed joint investments and interest of Albanian companies to invest in BiH. But then, the Albanian president said something that triggered a reaction from Serb politicians in BiH.
"My wish is that BiH recognizes Kosovo. I believe that it will not represent an attack on another country, but it would contribute to further stabilization in the region. For me it is also a humanitarian issue, as it relates to the fundamental human right to freedom of movement and refers to the economic development of the two countries. That is why I am glad that BiH Presidency members understand this issue and expressed willingness to resolve that", Nishani said.
RS president, Milorad Dodik, in his reaction on this Nishani statement said that RS have no intentions of giving voice to BiH institutions which are necessary for the recognition of Kosovo.
"We will remain on our decision. So, I believe that representatives from RS in the joint BiH institutions will respect this decision and deal with this issue in accordance with it", Dodik told the Media.
He added that the decision on Kosovo recognition at state level cannot pass without RS consent. Dodik emphasized that Serbia is negotiating, and will define its position on Kosovo, and that is what we will follow.
"Apart from President of Albania, Bujar Nishani, asking for it, there is no other reason for it, thus our decision will not be changed", Dodik stressed.
BiH Presidency member form RS, Mladen Ivanic, held a press conference few hours after meeting with Nishani. The reason for addressing the media was Nishani's statement.
"On the meeting of BiH Presidency members with mister Nishani I repeated my opinion that, for me, Kosovo and Metohija are part of Serbia and that I will not change that opinion. This topic will never be on the schedule of a Presidency meeting during my mandate in this institution", Ivanic clarified.
Commenting Nishani's statement that his wish was understood by Presidency members, Ivanic said that this understanding was related only to freedom of movement of people between BiH and Kosovo.