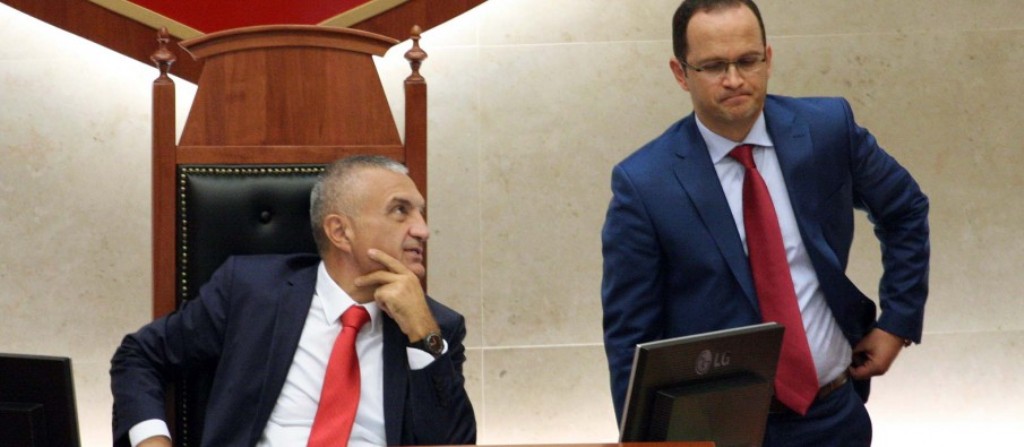 In a televised appearance at "A Show" program hosted by journalist Adi Krasta on News 24, Albanian president of republic, Ilir Meta has explained the reason why he did not sign PM Rama's proposal for Foreign minister Ditmir Bushati's removal from office.
An excerpt from the interview
Journalist: The Prime Minister's decision to remove a number of ministers from office immediately provoked a public debate and public opinion has been waiting on your reaction regarding your refusal to sign Mr. Bushati's removal from office and the nomination of Mr. Cakaj in his place.
President Meta: I'd like to assure you that even in this case, the President of Republic will fullfill all of his constitutional and legal obligations by complying with the Constitution and the minister, as a constitutional institution. The reason why I signed the nomination of all other ministers, except for the Foreign minister relates to the fact that all of them have been vetted in the past. The new names need to be properly vetted. As far as the Foreign minister is concerned, I'd like to make a clarification: I think that this is a very important and delicate mission. Every ministerial position is delicate, but this is also related to the fact that Albania is part of several important initiatives such as OSCE Troika…
Journalist: There needs to be some sort of continuity inside the institution…
President Meta: …continuity for the sake of European integration and for everything else. I think that Albania should not remain without a Foreign minister even for a second.
Journalist: So, is it fair to think that the refusal to sign Mr. Bushati's removal from office has nothing to do with him personally, but rather with the fact that there needs to be a more careful vetting for the proposed minister Cakaj?
Presidenti Meta: It has nothing to do with this issue. It has to do with the post of Foreign Minister, which is a very delicate position. This process requires time and it does not depend on the President of Republic, but on other institutions that we have addressed to in order to obtain more information.