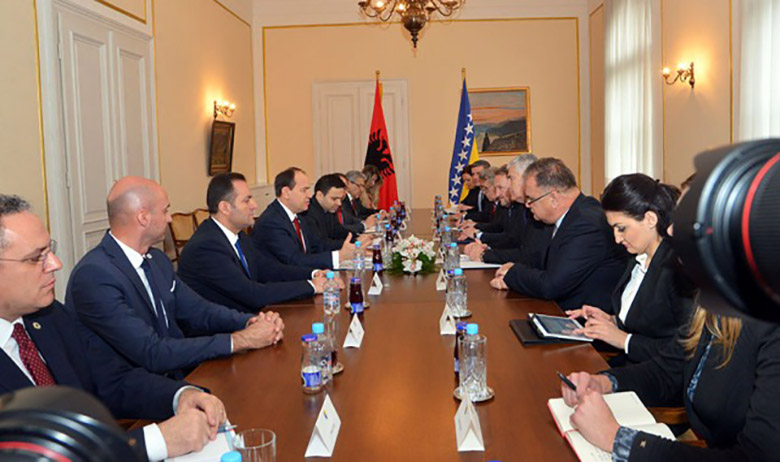 Bujar Nishani promises Sarajevo strong support for NATO accession
Tirana, 24 February 2016/Independent Balkan News Agency
By Edison Kurani
President of Albania, Bujar Nishani demands from authorities in Bosnia and Herzegovina to revisit the stance for the recognition of Kosovo. Mr. Nishani made this request during his visit in the capital Sarajevo.
Mr. Nishani met with the head of the Presidency in Bosnia and Herzegovina, Dragan Čović and two other members of the Presidency, Bakir Izetbegović and Mladen Ivanić.
"I believe that this would be a good thing for Kosovo and the whole of the region. I have shared my belief with the members of the Bosnian Presidency, because I would want for Bosnia to recognize Kosovo. I believe that this is the reality", Nishani said.
According to him, "the recognition would not be an assault on another state, but a contribution for stability and cooperation in the region".
Representatives of the Presidency of Bosnia and Herzegovina premised that there would soon be a solution for the recognition of Kosovo's documents, by promising the holding of a meeting with the representatives of the Republic of Kosovo in Podgorica, Montenegro.
Mr. Nishani also demanded that "in the new spirit of cooperation between the countries of the region, consensus be given by Bosnia and Herzegovina for Kosovo's accession in the Adriatic Charter". According to the Albanian president, "this request would further consolidate security and stability of our joint region".
Mr. Nishani's request comes at a time when Bosnia and Harzegovina holds the current Presidency in order to organize at the end of May this year the Summit of the Brdo-Brijun Process in Sarajevo. Kosovo will also participate in this summit.
Nishani says that he sees this summit as part of the contribution that Bosnia and Herzegovina gives for the stability and prosperity of the Balkan region.
"I asked for Bosnia and Herzegovina to revisit its for the recognition of the Republic of Kosovo and its documents, by expressing my belief that this would not only give way to the normalization of relations between Bosnia and Herzegovina and Kosovo, but it would also have an important and positive impact for the entire Southeastern Europe region", president Nishani told IBNA news agency after the meeting.
Mr. Nishani's request comes a few days after Sarajevo submitted its application for the accession of the country in the European Union. Albania has made this application several years ago and it was granted the EU candidate status.
But Sarajevo is also aiming to become NATO member. Nishani has promised to the Bosnian presidency "Albania's full support for Bosnia's accession in the NATO", on behalf of Albania as a NATO member country.
During this meeting, Mr. Nishani said that Bosnia and Albania are two countries that belong to the same region and that they aspire to become EU members.
The head of the Bosnian Presidency, Dragan Covic said that the two countries have good relations between each other and no pending issues.
Covic said that relations between Bosnia and Albania must grow in the domain of culture, economy, etc. /ibna/