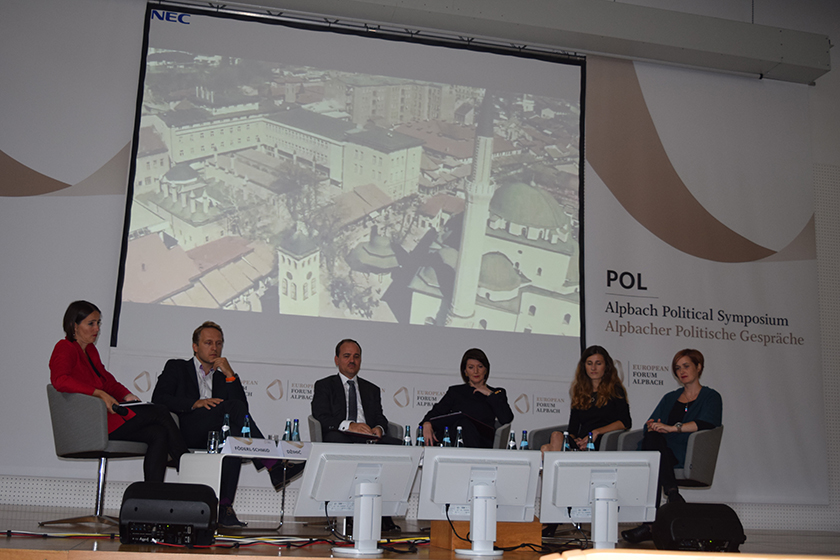 Tirana, August 26, 2014/Independent Balkan News Agency
Current Albanian majority in parliament is using double standards in its policies, demanding democracy when in opposition and demonstrating authoritarian behavior in the government.
This accusation comes from Austria, where the president of Albania, Bujar Nishani participated in the 2014 Alpbach European Forum (photo).
"The double stand with demands for high democratic standards in opposition and authoritarian behavior in majority, stagnation instead of launching incentive, manifest an old mentality, which slows down the process of the development of democracy and reforms", said Nishani in his speech in the panel "From reconciliation to integration: Contribution of youth for a joint future".
The president criticism is not unfounded. During eight years in opposition, the socialist leader, Edi Rama was the head of the toughest oppositions that the country has known after 1991. Many times, institutions, and parliament in particular, were boycotted and often for a long time. Throughout these years, the left wing opposition accused the right wing  majority for being authoritarian and for lacking democracy. The strongest accusations of the left when it was in opposition was that its demands were being ignored.
The same situation of accusations is taking place now. The former right wing majority, which is in minority now, accuses the left wing in power of being authoritarian and ignoring the demands and incentives of the opposition.
In his speech, the president criticized the lack of tolerance and consensus. He said that "the change of mentality is the biggest challenge of the Albanian society and post totalitarian societies in general".
The majority has promptly reacted. The vice chairman of the socialist parliamentary group, Erion Brace accuses the head of the state of attacking the government and "what's more serious", for doing this abroad.
"Nishani is the first president in 23 years who attacks the government of his country abroad", says Brace. According to him, the president acts in line with the Democratic Party, "but the DP is being delegitimized because it's in opposition", says the socialist MP, who accuses the president of "not representing the unity of the country", as his presidential status requires him to do.
Present in the 2014 Alpbach European Forum were important Austrian political personalities, from the European Union, etc. Speeches were also delivered by the head of EU diplomacy, Baroness Catherine Ashton, Federal President of Austria, Heinz Fischer, president of the Alpbach Forum, Franz Fischer, president of Kosovo, etc./ibna/