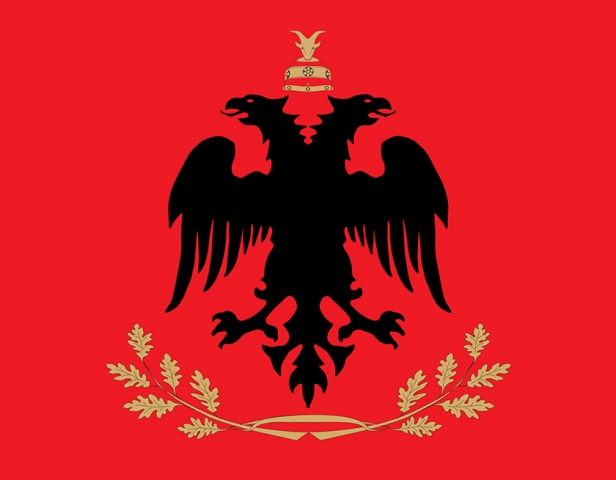 Tirana, July 11, 2014/Independent Balkan News Agency
President of Albania, Bujar Nishani has announced today the new presidential logo and flag, in the framework of the symbols of the Institution of the President of the Republic and the medals and decorations of honor that are given by him.
Nishani approved the works of author Ylli Beqiri: Flag, Logo and "Mother Teresa" Medal.
The details of the new symbols
The flag of the Institution of the President of Republic is based on the colors of the national flag (the red background and black eagle) and golden color was added, as a symbol of power, prosperity and endurance. The decorating symbols of the flag consist on the black eagle, taken from the insignia of Kastrioti family, accepting it as one of the most ancient symbols used by Albanian leaders, the helmet of Scanderbeg (golden), positioned in a straight position (neither left, nor right), symbolizing impartiality and determination in the representation of national unity, and also the oak leaves (golden) which represent long life, strength and dignity, also taken as a symbol of ancient times used by king Gent of Ilyrs.
The logo of the Institution of the President of Republic
The eagle, the helmet and the oak leaf crown are the main elements of the Logo with the same composure as the flag.
"Mother Teresa" medal
The main element is the portrait of Mother Teresa, the original work of the author of the medal proven by the certificate of the copyright; the text "M. Teresa" consists on the original calligraphy of Mother Teresa; the olive branches, which are a symbol of desire for peace, fraternity and long life; the color of the medal is that of the white gold or silver, as this color goes very well with the portrait, figure and work of Mother Teresa.
***
The change of presidential symbols comes a few months after the government changed state symbols. Prime minister Edi Rama, who leads the left wing governing majority, moved the helmet of Scanderbeg  to the left. Until 2013, it was positioned on the right. Rama also ordered the removal of the president from all state institutions and his replacement with the former prime minister who declared Independence on November 28, 1912, Ismail Qemali. The change of the symbols was accompanied with strong debates and accusations for violation of the law, especially in the case of the removal of the photo of the president from state institutions. /ibna/