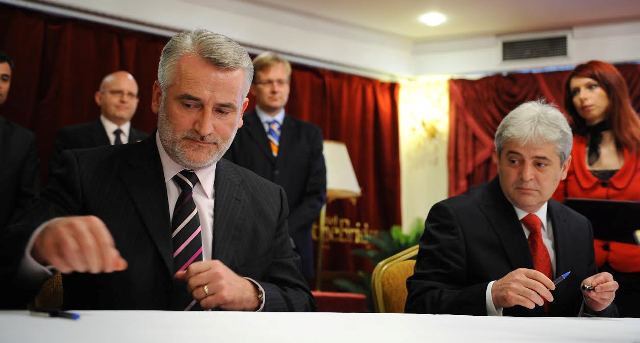 Skopje, 22 July 2015/Independent Balkan News Agency
By Naser Pajaziti
The two Albanian political parties BDI (Democratic Union for Integration) and PDSH (Albanian Democratic Party), who have signed the agreement for the solution of the political crisis in FYR Macedonia, have launched accusations against each other.
Leader of PDSH in opposition, Menduh Thaci, declared that leader of BDI, Ali Ahmeti has not said anything during the talks about the solution of the crisis and has issued no demands as far as the advancement of pending issues concerning Albanians are related.
He said that during the meetings held by political leaders, PDSH has put forward its demands which relate to Albanians.
"In the meetings with political leaders, Ali Ahmeti has not represented the Albanian cause, but he has spoken in Gruevski's language. Mr. Ahmeti behaves as if he's European Commissioner Hahn and he forgets about the fact that he's as responsible as Gruevski, because they govern together", Thaci declared, saying that he was pessimistic about the implementation of the agreement, especially as far as rights of Albanians are concerned.
PDSH also declared that it will not be part of the interim government, but that it will be part of parliamentary committees for the delivery of reforms and the amendments of the electoral code.
Meanwhile, BDI declared that such declarations are being issued for political gains.
"What's important to us is for issues concerning Albanians to be part of the agendas of the processes that hold the seal of international partners and we're making constant efforts for this. The citizens will be the one to judge our position. Without wanting to lower the level of the political discourse, we welcome the will of every political party to help our efforts for long term political projects", BDI spokesman, Bujar Osmani declared.
Political analyst and diplomat, Arsim Zekolli, told IBNA that the agenda for the solution of the crisis must bear in mind those issues that relate to Albanians.
"These days, we heard that once the political agreement is reached, the issue of the name dispute will then be addressed, but I think that issues concerning Albanians, such as the investigation of orchestrated trials and other cases like this, must come before the name dispute. The name dispute with Greece can wait. Albanians can no longer wait and every attempt to impose the solution of the name dispute before their demands, is a discriminatory provocation", Zekolli says. /ibna/