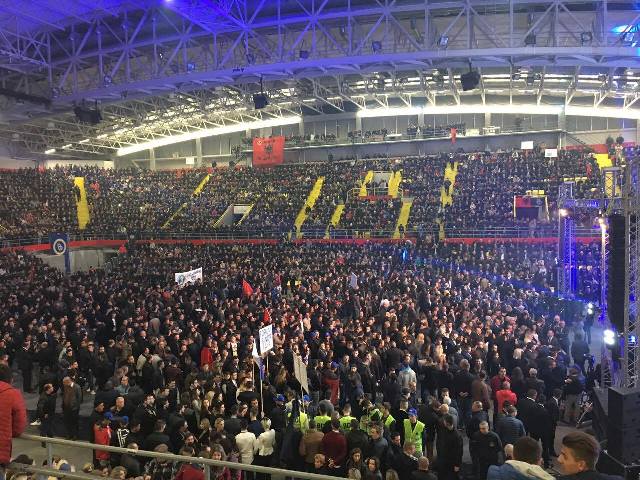 In the Albanian political camp in FYROM, there's a growing number of parties racing for the 11 December elections. There are three parties and two coalitions which are racing in this election, but according to analysts, this will cause Albanians to be divided and their vote to be more insignificant, because with the proportional election system, many political parties will not be able to reach the threshold and the votes that they get will be wasted.
Ethnically based demands, economic development, European Atlantic integration are part of the programs of all political parties. But many accusations have been launched by opposition parties against the party in power, BDI (Democratic Union for Integration), which came out of the ranks of former National Liberation Army in 2011.
Ali Ahmeti, leader of BDI, is convinced that he will win the elections, as according to him, his party alone has a clear platform for Albanian voters. "Our program is based on five pillars: economic equality, consensual decision making, Albanian language to become official throughout the entire territory, rule of law and NATO accession. If the citizens award us another mandate, we will deliver these points", Ahmeti said.
His opponent, Menduh Thaci, leader of PDSH (Democratic Party of Albanians), offers tax amnesty for all the debts that citizens have toward the state and large companies such as the power corporation. This party also promises amnesty for all Albanian inmates, who according to this party, are innocent and have been convicted through set up trials.
"The situation with Albanians is very serious in the aspect of legal rights and economic discrimination. There's no need to offer many facts and arguments. We offer solutions", Thaci says.
Part of this electoral race is also the Alliance for Albanians Coalition, which is comprised of three political parties. One of its leaders, Ziadin Sela, who is mayor of Struga, wants an amendment of the Constitution and for Albanians to be equal to Macedonians.
"Alliance for Albanians Coalition will not be part of the next government if the amendment of the Constitution is not introduced in the agenda. We will not enter the government without achieving this, otherwise we will boycott the government and the political system", Sela says.
The other coalition is between BESA Movement and RDK and this coalition offers a political platform called "Redefinition", which according to this coalition it means the redefinition of the state system and Constitution of the country.
"As soon as we come into power, we will finalize the Ohrid Agreement points and we will continue with the process of redefining, which means agreements through international brokerage. We will agree with the government partner on many issues that advance the position of Albanians in state decision making and in many other issues, as we will not allow for this state to be perceived as the state which only belongs to Macedonians", says that chairman of Besa Movement, Bilall Kasami.
Aiming to earn Albanian votes is also the Macedonian opposition coalition led by SDSM (Macedonian Social Democratic Union) which has come out with several Albanian candidates in these elections. This coalition offers social and economic equality for all citizens, regardless of their ethnicity. /balkaneu.com/