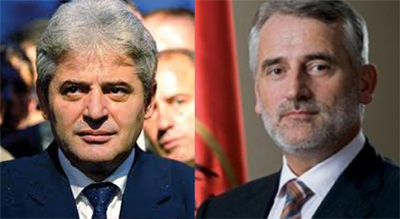 Skopje, November 28, 2013
A ceremony took place today in the "Mother Albania" Commemoration Center, which has been founded to honor the Albanian victims in the Balkan Wars and on the occasion of the 101st anniversary of the proclamation of independence of the Albanian state-Flag Day.
This activity was held under the custody of the leader of BDI, Ali Ahmeti, who in his speech issued messages on the occasion of this anniversary and for the future of Albanians in FYR Macedonia.
"These centers are not built to encourage hatred amongst people, because people are not guilty for genocides carried out against Albanians; chauvinists are and today is the 100th anniversary of the big massacres. Today is a day when Albanians of these lands, who have ended up in massive graves, are being put today where they belong to. This is not done in order for us to go back in the past. Today we're launching an appeal for all those people, all those countries that have carried out genocide and obliterated entire Albanian villages, to reflect and apologize, because we're the ones that want to built a secure future for generations that follow us", said Ahmeti.
Ahmeti underlined that the future of our people consists on contribution for peace, stability, not to establish alliances for the extermination of nations, alliances for the division and violence against small nations.
"Let this be a moment when all of us see the future that guarantees welfare and national dignity for Albanians and on the other hand, for Macedonians. These monuments and the national flags will not hinder Macedonian citizens", said the leader of BDI.
Ahmeti said that the red and black flag belongs to neither Albania, nor to Kosovo or the Albanians of FYR Macedonia, but this is a flag of all Albanians, which has been washed in blood and the sacrifice of the sons and daughters. Speeches were also held in this anniversary by other political personalities from FYR Macedonia, Kosovo, Albania and other lands.
Meanwhile, the head of the Albanian Democratic Party (PDSH), Menduh Thaci has sent a telegram to all Albanians on the occasion of Flag Day.
In his wish, Menduh Thaci says that November 28, 2013 has been and will remain the symbol of pride, resistance and determination of the Albanian people.
"Through this day, we will never forget the traces of our past. This day teaches us as to how we should sacrifice and fight for our rights. Albanians of Macedonia will not allow for the values of past generations to be violated. As Albanians, we have won many battles and we will also win this battle. On my behalf and on the behalf of the Albanian Democratic Party, I would like to wish you and Albanians wherever they are on the Flag Day, lots of luck, health and success", said the head of PDSH. /ibna/