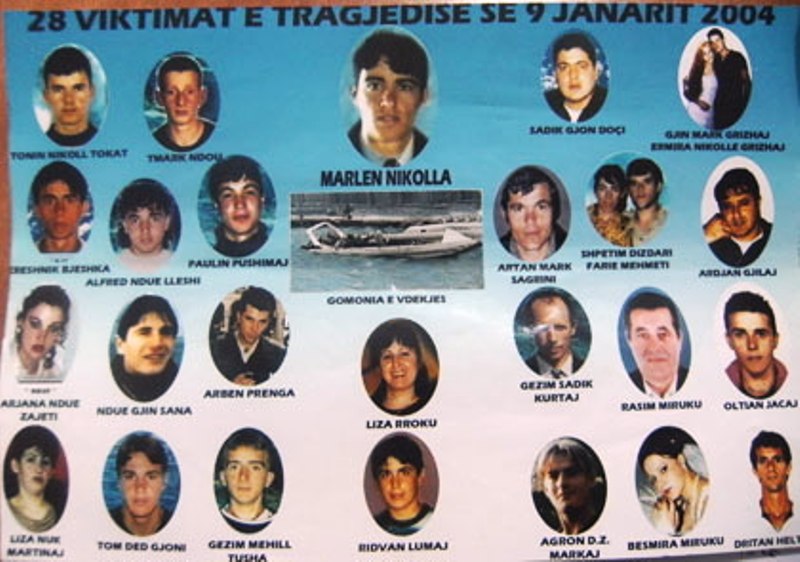 Tirana, February 4, 2015/ Independent Balkan News Agency
A person who has been sentenced in absentia to 25 years in prison for the tragedy of January 9, 2004, has been issued with an international biometric passport by Albanian police authorities.
It was the police of Vlora which issued the internationally wanted author of January 9, 2004 tragedy with a passport.
This tragedy claimed the life of 21 innocent people, who as a result of poverty, decided to reach Italian coasts illegally, as the only way to get there. Viron Robaj, one of the authors of January 9 tragedy, has been issued with a biometric passport on November 27 of last year.
And this would have never been discovered if it weren't for the suspicions of the Italian border police officers, who followed the movements of this trafficker who was wanted by the Albanian justice.
Sources from the Albanian ministry of Interior confirmed today that two police officers have been arrested in relation to the forgery of the passport of Viron Robaj: Inspector Leonel Begaj, who was the officer that received the necessary documents from people who applied for passports and chief inspector Lirim Lamaj, specialist at Vlora's Precinct.
Viron Robaj had been declared internationally wanted for "assisting unlawful border crossing resulting to death". He had been sentenced by the Court of Vlora with 25 years in prison in relation to the January 9, 2004 tragedy.
Meanwhile, Viron Robaj has been arrested in Italy by Italian police, which has identified him through his finger prints. Authorities seized Robaj's passport which had fake generalities of citizen F.K. Albanian Interpol office was immediately informed and Albanian authorities launched investigations on the people who issued this document.
The two police officers now face charges of "Abuse in the line of duty" and "Forgery of documents". The investigation proved that they had prepared the file for issuing Viron Robaj with a biometric passport with the generalities of another Albanian national, on Novemeber 27, 2014.
Recently, there's been a mounting number of cases of people issued with biometric passports in an abusive way, by forging the identity, generalities, personal information, photos and also by manipulating finger prints.
What happened on January 9, 2014
January 9, 2014 tragedy happened near Vlora, where 36 people, among them women and children, were traveling on a motorboat to Italy. They had started their journey from the Bay of Palasa. On the evening of January 9, the tragedy took place as a result of a turbulent sea where waves were 5-6 in the Beaufort scale.
The people who were convicted had been charged of assisting unlawful border crossing resulting to death and serious sentences were handed.
The clandestines were mainly from Shkoder and they had paid 1500 Euros each in order to reach Italy on a motorboat.
After travelling for 12 miles, the engines of the motorboat went off and the vehicle started to flood. Having no other option, the smugglers phoned TV stations to ask for help. The rescuing operation was difficult due to the turbulent sea and the lack of accurate coordinates. Rescue ships set off from Karaburn several times, but they could not locate the motorboat.
21 people lost their life (photo), while 9 survived. The survivors were the three smugglers and 6 emigrants who had paid to reach Italy. Among the survivors was also Viron Robaj who was issued with an international passport by police of Vlora. /ibna/