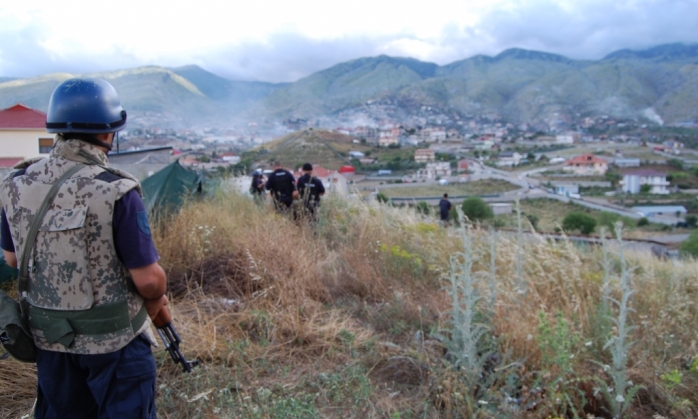 IBNA Special Report
Tirana, June 20, 2014/Independent Balkan News Agency
As of today, Albanians can take a deep breath. The renegade village which for two decades in a row had become a "forbidden fruit" for police, is now fully controlled by it.
Ministry of Interior declared today that "State Police is now present in the entire Commune of Lazarat, keeping the situation under control and offering law and order for the residents".
This is the first time after 20 years that the village known as the stronghold of the Albanian drugs is put under police control. So far, no other government had carried out such police raid in order to take this village under control, an area which is known for its cultivation and traffic of marijuana and other narcotic substances.
General Chief of State Police said today that the area where police forces were being shot from has also been put under control. There they found and seized significant amounts of weapons and ammunition and also a heavy machine gun.
The operation led to the discovery of 6 laboratories for the processing of the cannabis oil. Police also found 35 tons of marijuana packed into bags. 100 roots of narcotic substances was found and destroyed.
The one week operation found and seized 11 heavy weapons such as machine guns, mortars, etc, but also TNT. Searches were carried out in 130 homes and many other buildings inside of the  village of Lazarat, surrounding lands and lands belonging to the commune.
14 people were arrested in the framework of this operation. These people were suspected of opening fire against police, of cultivating cannabis, of showing resistance to police forces and of destroying properties.
Rama: We will only  stop once Lazarat is no longer in the drug trafficking map
Prime minister Edi Rama commented on the police operation in Lazarat, saying that it's been 20 years that this operation had been delayed. "Lazarat has become the main source of the negative perception on Albania in Europe and the world. We have undertaken this operation and we will only stop once the village is no longer in the European and world map of the cultivation and traffic of drugs. Without the smallest doubt I can say that we will bring this area to normality, restoring there the rule of law", said Rama. "This is the best example of not only the will, but also our ability to be efficient in the fight against trafficking", added Rama.
Former prime minister: Why didn't I intervene in Lazarat
Former prime minister Sali Berisha, praised the police operation for the liberation of Lazarat, but said that the operation was badly organized. In a comment on this operation, Mr. Berisha also explains why, for 8 years in a row, his government didn't undertake an operation: "It was my policy not to intervene. All other measures should be taken, but forceful intervention. This has led to a drastic fall of cultivations", says Berisha. "They have decided to intervene and I don't have any objection on this. Every government makes its choice. But, there must be an intervention based on rules, there must not be chaos, ringleaders must not be informed, there must be no psychological terror on the population and there must not be raids which do not suit a free country", said Berisha.
The former prime minister said that the prohibition of motorboats for 8 years led to a stop in the traffic of drugs, because they consisted on the main industry of the sale of marijuana in Europe. The government also ordered to cut water supply for the irrigation of lands cultivated with cannabis in Lazarat. Berisha says that this didn't allow massive cultivation of marijuana.
"When we came into power, a large are of land had been cultivated with cannabis and it started to be cultivated with opium. Most of the area was clear of cannabis".
USA: Intervention in Lazarat must be accompanied with arrests
Ambassador of the United States of America, Alexander Arvizu has commented on police operation in Lazarat. He has praised police actions, by saying that he and other representatives of the US embassy have been in constant communication with the Minister of Interior, Saimir Tahiri and other officials who led the operation.
"Lazarat has been known as a problematic area for years and we're encouraged that the government has decided that it's now time to take action. We also praise the fact that authorities have been very careful to avoid victims and casualties. Many of the residents of Lazarat have not been involved in illicit activities and they merely live there", said Arvizu.
Ambasador said that it's important for police operation in Lazarat to be accompanied by arrests, prosecutions and convictions.
What now?
Two decades of wait for a police operation which lasted a week. The village with 5 thousand residents was put under control by 800 police forces. No dead and a lot of marijuana discovered. Police will be deployed for a long time there, based on IBNA's sources at the Ministry of Interior. The scope is not to allow the cultivation of drug again.
This put an end to the traffic of drugs which amounted to 5.4 billion USD a year, according to international reports.
Numerous reports said that the entire village was involved in the cultivation and traffic of drugs, while the ties for the purchase and sale of the drug were all around Albania, Greece, Italy and other countries. This market closed. Many people in Lazarat say that the money which was earned were in the hands of a group of traffickers and cultivators. Others merely suffered the stigma of the village. 20 years later they find themselves in a social crossroad. No program of aid for economic development of this area has been put to place so far. Nevertheless, authorities constantly talk about the need for such a program. The prime minister too has underlined this necessity. We must wait and see what the future has in store for this "defeated" village. /ibna/