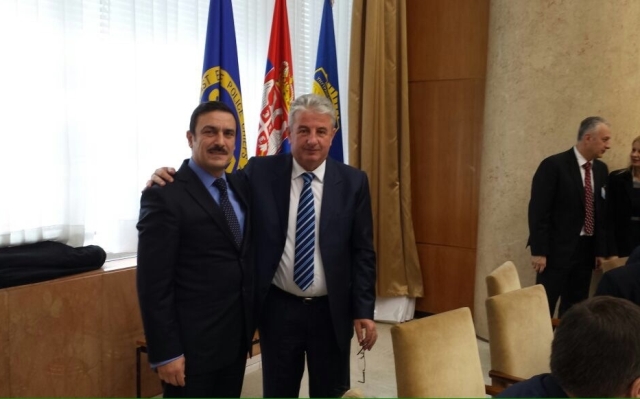 Tirana, November 26, 2014/Independent Balkan News Agency
General Director of Albanian State Police, Artan Didi participate in the General Assembly of the Southeast Europe Police Chiefs Association (SEPCA) held in Belgrade, as Serbia was the country holding the chairmanship of this organization.
In this meeting, Albania took over the chairmanship for the next 12 months and Artan Didi was elected president of SEPCA.
This moment was accompanied by a solemn ceremony which handed over the official SEPCA flag from the General Director of Serb Police to the General Director of Albanian Police.
In his speech, Didi identified foreign and constant developments in the EU map, new relations established by countries of our region with the EU and developments in the international arena, especially the Syrian conflict and the emergence of ISIS in this region, which is very close to us.
"These developments have been unpredictable for our countries and as a result, the necessary measures were not in place, by putting us into difficulties in order to handle the costs of these crises and especially the acute problems that relate to migratory displacements in the countries involved in the conflict toward EU countries, by using our region and the import of terrorist tendencies, by increasing the threats of this phenomenon in the region. We're no longer the ones that we were a year ago. We must respond to developments within our countries and regional developments, therefore our organization must help us to respond to regional challenges with regional strategies and we have now identified this need", said Mr. Didi.
SEPCA was founded 12 years ago. Its aim is to anticipate problems that regional police organizations face in their confrontation with daily domestic and regional challenges in the domain of security. /ibna/