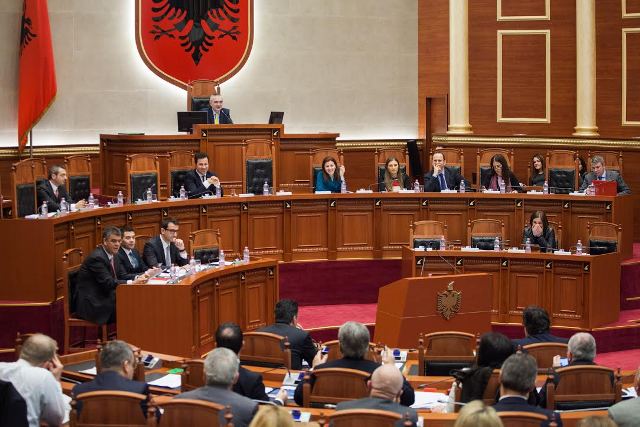 Tirana, February 12, 2015/Independent Balkan News Agency
In Albania, political conflict has been recently associated with criminal lawsuits. PM Edi Rama said on Thursday that he has pressed criminal charges against two MPs of the Democratic Party, Arben Ristani and Edi Paloka for defamation.
The first one is secretary general of the DP and the second one is the head of the parliamentary group.
"We will ask the prosecution to investigate based on an accusation, which means that if someone is accused for collaborating with crime, he must give explanations", said Mr. Rama today.
He added: "I have pressed charges against Mr. Paloka and Mr. Ristani for defamation and I challenge you to prove your ridiculous accusations about my ties to criminals at the Supreme Court. If you will prove anything of what you utter from the so called mouth of yours, I will resign and put myself at the disposal of the justice system", said Rama.
Edi Paloka MP reacted in parliament against Mr. Rama's accusation.
He suggested for the PM to do a drug test.
"Prepare yourself for court, in order to answer to police accusations. The PM must undergo the drug test and it would be best if the PM did the test today, in order for Albanians to realize why he talks an hour and a half in parliament and then he starts to go pale and his hands start to shake", said the head of the democrat parliamentary group, Edi Paloka.
Recently, there have been many accusations exchanged in the political camp for involvement in criminal affairs.
The majority has every once and a while declared that certain crimes taking place in the country have the political support of the opposition. On the other side, the opposition accuses the government of direct involvement in criminal affairs. It also accuses it for direct ties of MPs and left wing ministers with the underworld.
Amid this wave of accusations, the opposition has come up with a public request. Mr. Ristani suggests for 140 MPs, the entire government cabinet and judges and prosecutors to undergo a drug test in order to assure the public opinion of not making decisions without a clear state of mind.
A few years ago, former minister of Industry, Dritan Prifti, who belongs to the left, denounced the socialist leader, who was then mayor of Tirana, of consuming cocaine in his office. Prifti said that he had witnessed such scene, but these accusations were never commented. /ibna/