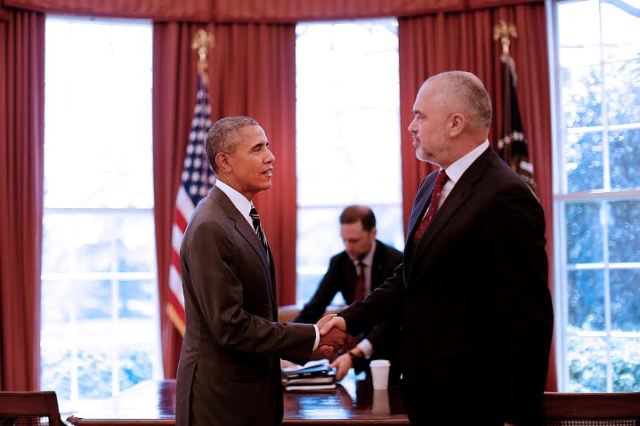 White House: President Obama also participated in the meeting between vice President Biden and Prime Minister Rama
Tirana, 15 April 2016/Independent Balkan News Agency
By Edison Kurani
Albanian Prime Minister, Edi Rama, visited the White House yesterday where he had a bilateral meeting.
Present from the American side was the President of the United States of America, Barack Obama and vice President Joe Biden and other officials.
Meanwhile, from the Albanian side, besides the PM, part of the delegation was also Foreign Minister Ditmir Bushati and Minister of Interior, Saimir Tahiri.
A press release issued by the Albanian government states that the meeting discussed "the excellent relations between the two countries, the process of reforms and the role and contribution of Albania in the region".
The Albanian government quotes Mr. Obama to have said that "Albania is an extraordinary ally. I'd like to thank you for what you have done. Under your leadership, Albania is now a point of reference in the Balkans and one of the most responsible players in the region. We praise your role and we fully support you".
Meanwhile, Prime Minister Rama said that "Albania is a pro American country and a serious NATO member".
The Prime Minister also presented the incentive for the opening of the Regional Center for the Fight Against Violent Extremism in Tirana.
Meanwhile, the office of the US vice President issued a press release on the meeting held on Thursday at the White House with the Albanian PM, stating that "President Obama was present in the meeting between US vice President Biden and Prime Minister Rama".
According to this press release, the President and vice President praised the critical role that Albania plays in furthering security in the region and reconfirmed the importance of keeping the doors of Euro-Atlantic integration open for the stability of the Balkans.
The President and the vice President hailed Albania for its leading role in promoting religious tolerance, for the importance assistance that Albania is offering in the international coalition against ISIL and for the important steps that Albania has taken against terrorism and violent extremism.
The President, the vice President and the Prime Minister agreed on the importance of continuing the reforms in order for Albania to move forward in the European integration plan, concludes vice President Biden office press release.
Mr. Rama's visit to Washington DC was accompanied with skepticism by the Albanian opposition and the media. Several weeks ago, an official statement came out according to which Obama had invited Rama in the White House.
The press release that the White House issued which stated that "President Obama participated in the meeting between vice President Biden and PM Rama" led to the opposition's newspaper "Rilindja Democratice" to write that the meeting between Rama and Obama was not a scheduled meeting and that this was just a meeting between Rama and Biden, which Obama joined. /balkaneu.com/