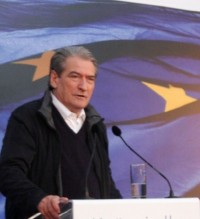 Tirana, May 14, 2013
The Prime Minister of Albania, Sali Berisha was present today in the inauguration of the new customs terminal Vore-Rinas. In his speech, Premier Berisha said that the government has applied friendly policies toward business. Premier Berisha said that everything will be done in order to offer better services to businesses.
"We believe in our philosophy. The freedom of the market and the free incentive of the individual are the foundation of wellbeing. We have undertaken drastic fiscal reforms. The fact that your economic freedom has brought more revenues cannot be denied", said Berisha.
PM Berisha demanded more transparency and better services for the business from the customs administration. "I invite you to do everything to serve to the business, to be transparent with it, because this is the best partnership", said Berisha.
The head of the government also commented on the program of the opposition about economy. According to Berisha, the opposition is not clear about the system of taxes that it wants to impose. He said that the business sector must not be seen as an opponent, because this is not a country with a public production sector, but a private production sector.
The new customs terminal of Tirana will be a contemporary terminal which meets European standards as far as capacities are concerned.
This terminal can process up to 15 trailers at a time, thus avoiding queues. It has a surface of 75 thousand square meters, 10 thousand square meters of customs warehouse and 2200 square meters of surface for the customs administration.
With the construction of the new customs terminal, the customs of Tirana meets all the international required standards. /ibna/