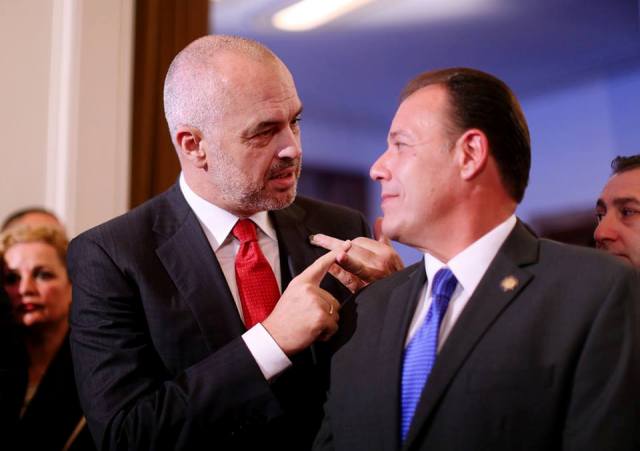 The Albanian government sends yet another message to authorities in Athens. PM Edi Rama says that the principles of reciprocity will be followed with the neighboring country, warning that for every development that affects the interests of Albanians, the Albanian side will behave in the same way.
Mr. Rama has raised his tone in relation to the latest developments with Greece, especially after the fact that on Friday, a court in Yoannina handed a conditional sentence of 30 months in prison  for two employees of the Albanian Foreign Ministry, as they were stopped on the border transporting Albanian books for the children of Albanian migrant workers in Greece.
Rama considers relations with Greece as important and he expresses his readiness to solve common issues. Meanwhile, he adds that according to him, the neighboring country has been spoiled with the way how negotiations have taken place with the previous governments.  "It is true that these relations must be elevated to another level, but we have several scenarios which emerge as obstacles for the past. We have been committed since day one to address pending issues. We have formed a special group and we have expressed our readiness to discuss openly. Our neighbors were spoiled for a long time, because here in Tirana they had submitted and quiet interlocutors, when it came to issues which cannot be avoided and we cannot pretend that they do not exist", declared the head o f the government during a speech delivered in the Summit of the Albanian Diaspora.
He warned that "we don't intend to keep quiet and submit to things taken for granted in these relations".
"We believe that each of them has a solution, in the spirit of cooperation and in the spirit of our European family… We have laid all tables of dialogue. We have made it clear to our neighbors that these are issues that we don't intend to overcome by leaving them unaddressed. We are willing to offer them the best solution possible based on the basic principle of reciprocity", Mr. Rama said.
On the photo: PM Rama in the meetings held during the Summit of Diaspora