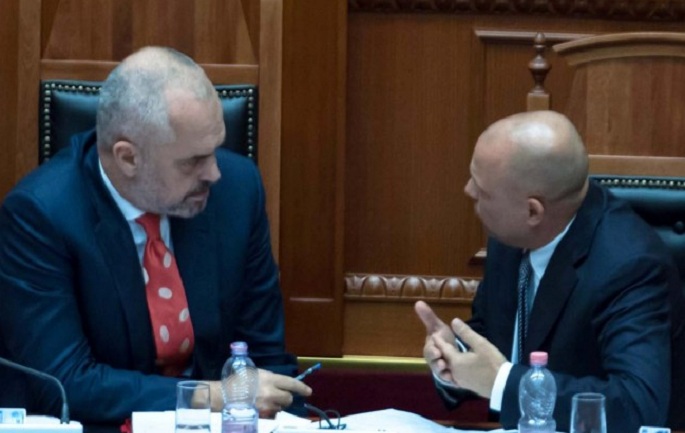 Albanian Prime Minister, Edi Rama, discharged today (30/01) Ylli Manjani from the post of the minister of Justice. The decision that was made public was not accompanied with any motives for the discharge.
Mr. Rama has addressed to the President of Republic with a request for Manjani's discharge and to appoint in this post the vice chairman of SMI, Petrit Vasili. Meanwhile, Mr. Vasili has served as minister of Health in PM Sali Berisha's cabinet.
The discharge was accompanied by a strong reactions by Ylli Manjani. He said that he faced personal revenge.
Majani said that during the time that he was minister, he faced with what he considered as absurd: the fact that ministers had to take permission before speaking in front of the public and media from one of Rama's officials, alluding to the communication director at the Council of Minister, Endri Fuga.
Manjani said that in the government meetings, the ministers were not allowed to speak. "When I entered the government, I faced a practice, procedure and process which had nothing to do with professionalism. Ministers have not been allowed to speak in government meetings and this is unacceptable for me", Manjani said.
"In a democratic system, a minister is asked to shut up", he said.
Manjani said that the pressure for his removal mounted on the day that he made the declaration for cannabis, where he publicly denounced the massive cultivation of drugs in the country.
Meanwhile, he added that another reason for his removal had to do with the case of Klement Balili, which is considered by Greek media as the "Balkans' Escobar".
"This government has been captured and has violated any constitutional standards. While I asked for Balili's arrest, the heads of police ate and drank at 'Santa Quaranta'. The ministers slept there with their mistresses", Manjani said referring to the luxury resort in Saranda which is known as a property of the wanted man Balili.
Meanwhile, Manjani said that the Prime Minister has been asked by the international partners to remove the minister of Interior and not him. Rama and Tahiri made no reactions about Manjani's accusations. /balkaneu.com/