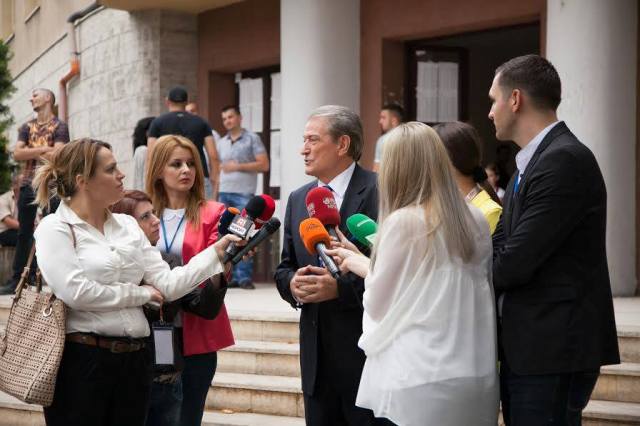 Tirana, 22 June 2015/Independent Balkan News Agency
Former PM and former democrat leader, Sali Berisha has issued a surprising declaration in the early hours of Monday, calling upon the international community to delegitimize the June 21 local government elections in Albania.
This is the first time that Mr. Berisha makes such request in his 25 year political career. When the left wing has made such requests, Mr. Berisha has always condemned them.
Mr. Berisha's declaration is based in 9 arguments, which according to him, support the request not legitimize the elections.
The first out of nine points that Berisha mentions in order to demand the annulment of the elections is that "in these elections, like never before, the underworld, under Edi Rama's leadership, officially ran candidates who were criminals, murderers, drug traffickers, prostitution, kidnappers for mayors and councilors".
Berisha accuses Edi Rama of blocking the agreement for decriminalization, while he mentions the fact that the international community had the same request.
Some other causes that Berisha gave included "the pressure of gangs tied to the government", "the use of crime money to rig the elections", "the purchase of votes money, promise of a job position and material goods", etc.
An important point which Berisha says that it had a big impact in the process was that "the PM threatened for the first time the opposition's supporters of not voting the opposition's candidates as they would face the lack of water, roads, investments". For Berishaq, Rama made such "threats" as if the state budget was his family's or party's budget and not a contribution of the Albanian citizens with or without a party".
At the end of his declaration, Mr.Berisha calls upon the international community not to legitimize the elections, "in which like never before, crime, government's criminals, drug money and prostitution ruled and the basic international election principles were violated". /ibna/