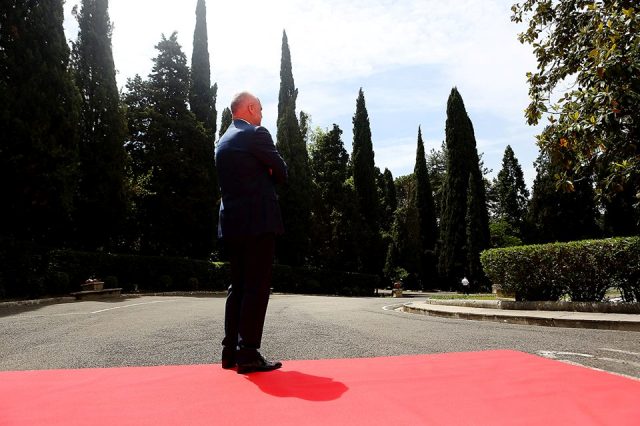 Albanian Prime Minister Edi Rama talks for the first time about the alienation of relations with Greece. Mr. Rama comments the acute problems which are being accumulated between the two countries and he doesn't spare his criticism and strong messages against Athens. Athens reacts: Albania's political leadership is lapsing in deeds and words
Tirana, 28 May 2015/Independent Balkan News Agency
By Edison Kurani
Search on sea is the main cause of the alienation in relations between Albania and Greece. PM Edi Rama says that the Albanian government has demanded from Athens information on the search that Greece has decided to carry out in the Ionian sea. For Mr. Rama, such request is more than normal. "I don't see any reason for Athens or circles of free thinkers or politicians in Tirana to be surprised as to why the Albanian state demands from Greek authorities, based on routine practices of diplomacy and international law, information on searches conducted on sea", Mr. Rama says.
The Prime Minister says that talks had started with the previous Greek government on the issue of Chams: "It's no secret that our effort to find a common language and to find a solution, which for us is a matter of national interests, has started with the previous government. Equally important and bearing a bilateral interest is the issue of the maritime border", Mr. Rama says.
Rama says that he wants to continue what has already started with the previous government: "We want to continue the cooperation that has already started and in the past we had a very good collaboration with the government of PM Samaras. We managed to solve the old and difficult problems of toponyms for Albanians and we have kept the channel of dialogu on the issue of the sea open".
Here, Mr. Rama launches a clear warning: "We do not intent to negotiate the national interest in order to give the impression of good neighboring relations. On the other hand, we have pledged for a foreign policy with zero problems with neighbors, but we have not pledged to close our eyes when there's a problem which has not been caused by us and which is not fueled by us".
Another issue for which Mr. Rama talks for the first time is that of the heads of Parliament. A few days ago, the left wing majority voted as deputy speaker of the House of Parliament the leader of the Cham party (PDIU), Shpetim Idrizi. A few hours later, the other deputy speaker, Vangjel Dule, leader of the Greek minority party (PBDNJ), resigned, saying that Idrizi's case was a matter of political bargaining.
For Mr. Rama, the election of Idrizi is a domestic matter in which Greece must not intervene: "In the same way that we cannot imagine telling Athens who to elect as head of parliament or deputy speaker of parliament or who to include in the government, we cannot also imagine for Athens or any other capital for that matter, telling us how must the parliament elected by the sovereign people act. Therefore, I believe that it's clear for us and it should be clear for everyone else. This is an entirely artificial problem", Rama said.
Another problem that has had an impact in the relations between Albania and Greece relates to the constant cancellation of visits and meetings between the leaders of both countries.
A few days ago, Greek Foreign Minister cancelled his visit to Tirana. Yesterday, Prime Minister Tsipras was expected to arrive to Tirana in order to participate in the summit of the prime ministers of the Balkan, but this didn't happen.
PM Rama, who was not that enthusiastic when left wing radicals of SYRIZA came into power, says that he has nevertheless invited his counterpart to visit Tirana, but this hasn't happened. "I have congratulated Premier Tsipras and I have invited him to visit Tirana", Rama says.
In front of this situation, Rama says that there is no invitation from the Greek government to visit the neighboring country, when he says that "I would be very happy to visit Athens".
Athens reacts: Albania's political leadership is lapsing
Greek government has issued a strong reaction against the Albanian government, following Rama's declaration that "we do not intend to negotiate our national interest for better neighboring relations".
Foreign Ministry spokesperson Konstantinos Koutras made the following statement in response to journalists' questions regarding statements made today by Albanian Prime Minister Edi Rama:
"The political leadership of our friendly neighbouring country is lapsing, in word and deed, every day. A return to the logic of, and to respect for, legality and international law is the surest path for Albania's European perspective. No further comment". /ibna/