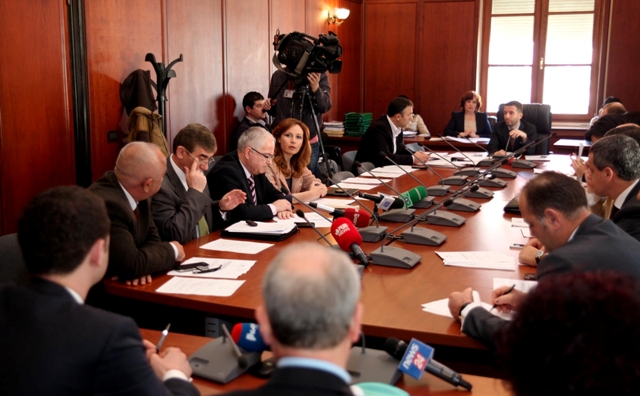 Tirana, April 2, 2014/Independent Balkan News Agency
Albanian authorities have decided to cancel the non performing loans of private banks, thus facilitating their financial situation.
The bill which was approved by the parliamentary economy committee (photo), is expected to relieve 4-5% of NPLs. Meanwhile, the government expects banks to be more willing to offer loans to individuals and businesses in order for them to boost their activities.
Experts say that the cancellation of these loans by considering them as lost ones, offers more security to banks and this way, they have more funds to lend for the economy.
According to them, NPLs are an obstacle for funding, as banks are obliged to cover every NPL with provisions.
According to the data of the Bank of Albania, NPLs currently amount to 24% of the total loans. Almost half of this amount consists on lost loans.
Deputy minister of Finance, Ervin Mete says that this bill was drafted with the assistance of the International Monetary Fund and the World Bank. "This change significantly improves the financial statements of the banks", says Mete.
How does the system function
Based on the regulation of the Bank of Albania and international standards of financial reporting, banks create provisions in order to cover possible losses for loans which are not paid back, thus becoming a burden for their expenses.
Based on the characteristics of a specific loan, such as the remainder of the unpaid loan, collateral, the progress and the results of court proceedings, when loans are classified as lost, banks allocate provisions amounting to 100% of the unpaid amount and the part for which there are no reasonable hopes that it's not going to be paid back, it's taken off the financial statement.
Deputy minister of finance, Ervin Meta explains the amendment in the law: "Due to the specifications of this system, the bill describes a special procedure for the cancellation of NPLs. According to this bill, the cancellation of the NPL is considered to be a deductable expenditure". /ibna/