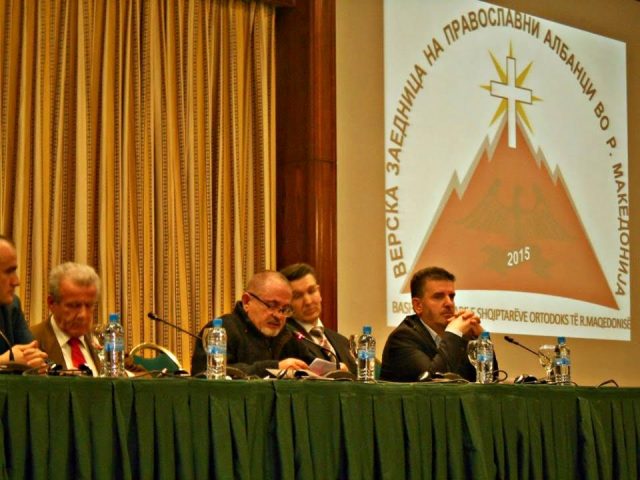 Skopje, 5 January 2016/Independent Balkan News Agency
By Naser Pajaziti
A group of Orthodox Albanians in FYR Macedonia have set up the religious communion of the Albanian Orthodox, a community which is separated from the Macedonian Orthodox Church.
The initiator and founder of this religious community is university professor, Branislav Sinadinovski, who at the age of 60, publicly admitted that he is an Albanian ethnic and that so far he had not revealed his national identity.
But the creation of the new Orthodox community has sparked different reactions. One of the bishops of the Macedonian Orthodox Church, Atangel has reacted by saying that this is causing a division among this community in the country. "The fundamental principle for the creation of this communion by Sinadinovski doesn't have a religious character. Sinadinovski is an opportunist who is exploiting the feelings of the Albanian community", bishop Atangel says.
But, professor Sinadinovski, who a few months ago published the encyclopedic book "Orthodox Albanians in Macedonia" has reacted to this.
According to him, the idea for the creation of the Albanian Orthodox Community has received great support as it's being done to restore the identity of this community which is dispersed.
"I have held meetings with many of my fellow countrymen and we have stressed the need of setting up our religious community", professor Sinadinovski told IBNA.
At the end of last month, this community was also registered at the Court of Skopje
Sinadovski has also reacted against the accusations or reactions toward this community.
"In our country, people are unable to realize that Albanians have three religions: Muslim, Orthodox and Catholic. This is not perceivable for Macedonians. For us, Albanians, religion doesn't play a major role, because we are first identified by our national identity. The Albanian Orthodox community has been assimilated for decades in a row, but today we must try and cultivate our religious values, but also national ones", said Sinadinovski.
Official statistics do not identify this community, but professor Sinainovski says that after the '70s, there have been around 70 thousand Orthodox Albanians in FYROM. /ibna/