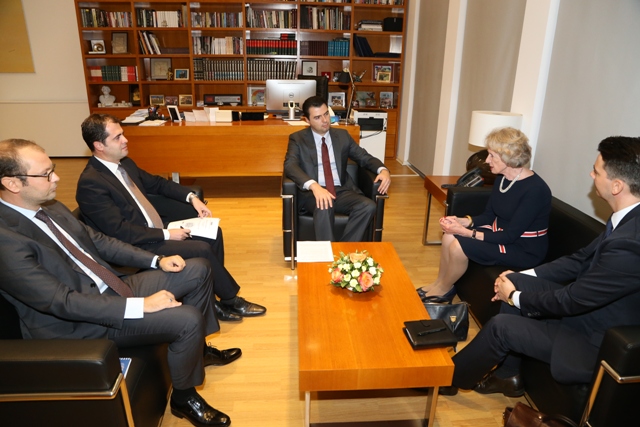 Tirana, 16 October 2015/Independent Balkan News Agency
The leader of the Democratic Party of Albania, Lulzim Basha, says that  the country has an urgent need to start an electoral reform through consensus.
Basha underlines that without political will to hold truly democratic elections, any electoral reform on paper is insufficient.
"The 2015 elections organized by the majority led by Rama and Meta, are not worthy of an EU candidate member country and is an obstacle for the launch of accession talks", Mr. Basha said.
Basha presented the opposition's objections on the electoral reform to the head of the ODIHR Monitoring Mission for the 2015 local government elections, Audrey Glover and the OSCE/ODIHR senior adviser for elections, Richard Lappin. This meeting discussed not only the non democratic elections of June 21, ODIHR findings and recommendations and suggestions on the best ways to apply these recommendations.
Mr. Glover shared with Mr. Basha the opinion that there's a need to address the problems identified by the final report. Glover and ODIHR representative, Mr. Lappin, expressed their readiness to contribute in the improvement of the standards of the electoral process in Albania.
ODIHR monitoring mission's report underlined serious problems identified in the June 21 elections, which according to the opposition, came as a result of the abuse with power and illegal pressure exerted by the government and majority.
The leader of the opposition underlined that all the violations of OSCE standards identified by the Report and the steps backwards made in comparison to the previous elections, were a direct product of the full lack of political will by the heads of the majority, Rama and Meta.
"The violations that the opposition has identified and denounced, which are also laid out in the findings of ODIHR on the elections, such as the purchase of the vote, intimidation of voters, use of administration sources in the campaign, media censorship, irregularities with voters' lists and above all, the running of candidates with a criminal past and the use of criminal elements in the campaign, are flagrant proofs of the June 21 electoral crime, intentionally carried out by Rama and Meta", Mr. Basha said.
The democrat leader considered ODIHR assistance as necessary to start a reform which would guarantee a democratic electoral process in Albania and invited ODIHR to contribute in an active way with its expertise in this process.
For the opposition, this would be of a great help to hold truly democratic elections, which would restore the trust of the public in the election of power through the free vote. /ibna/