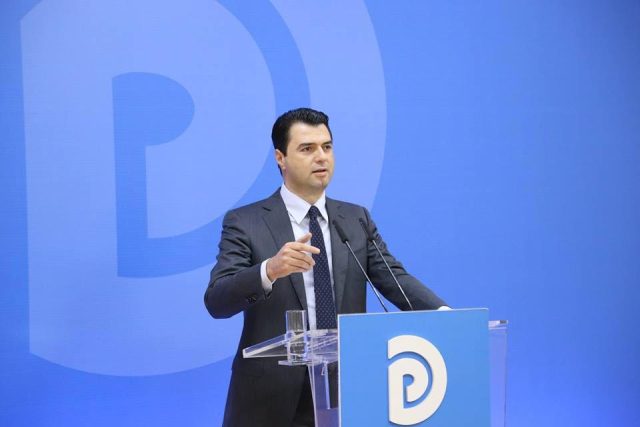 Tirana, 17 February 2016/Independent Balkan News Agency
Leader of the Albanian opposition, Lulzim Basha says that the latest changes made by PM Edi Rama in his cabinet, are nothing more than "corruptive amends".
"Although fight against corruption is an absolute priority, as the US State Secretary pointed out, Mr. Rama remains determined in promoting theft", said the democrat leader.
According to Mr. Basha, "after sacrificing Shkelqim Cani to cover the theft of 400 million USD in taxes and customs, by appointing Arben Ahmetaj as Finance Minister, Rama confirmed that theft and embezzlement at the expense of Albanians, are the standards of his government".
According to the DP leader, "Ahmetaj is one of the most loyal ones of Edi Rama's gang of thieves. He is known for the landfill of Elbasan, where 10 thousand Euros of taxpayers' money is stolen on a daily basis and excelled as the middleman of the secret, unlawful and corruptive deal for the Skavica mega affair".
With the similar language, the leader of DP also depicts the new minister of Economy, Milva Ekonomi.
"Rama promoted today the model of corruptive concessions in the healthcare system, one of the biggest thefts in the history of the country, where 338 million euros were divided with his friends and clients. As deputy minister of Health, Mrs. Ekonomi has worked tirelessly for this big scheme of theft. For this, she is rewarded by Rama, being appointed as minister of Economy".
For Mr. Basha, "Rama's message is clear: Steal, become an MP and minister. Steal even more. Edi Rama trusts you with the finances and the economy of the country".
Basha makes gloomy predictions: "These corruptive amends reflect the financial interests of Edi Rama. They deepen the record of theft, poverty and crisis, which are the only products of this government, even more. The true change starts with the departure of Edi Rama and his gang of thieves".
IBNA ANALYSIS/ Imposed cabinet reshufflings, instead of the much demanded reshufflings