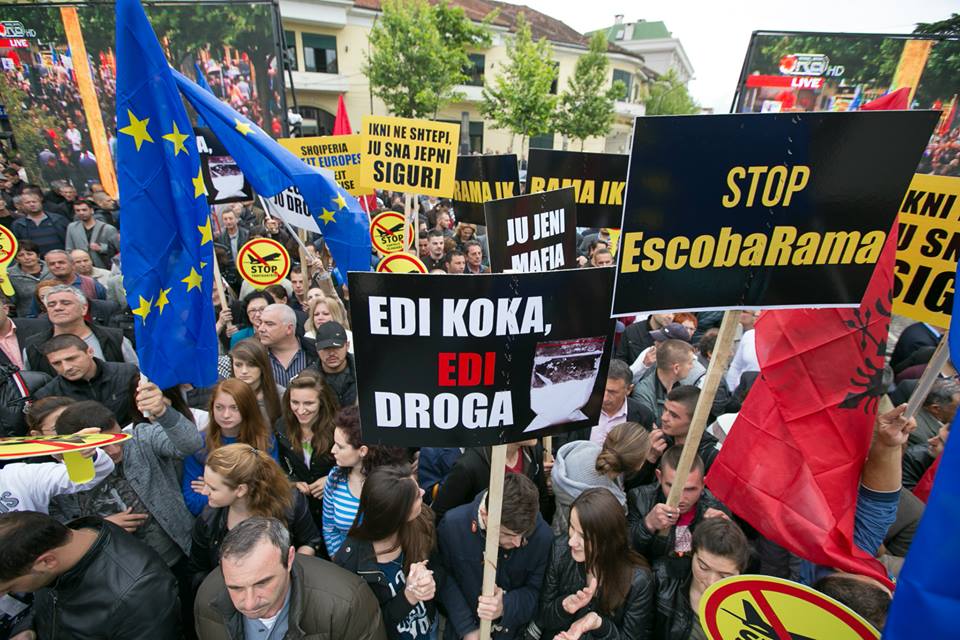 Tirana, May 15, 2014/Independent Balkan News Agency
In Albania, parliament held heated debates in a plenary session accompanied by a marathon protest outside it.
Since Thursday morning, a number of opposition supporters have gathered in front of the parliament building (photo). Under the leadership of democrat MPs and the chairman of opposition, they protested against the drug traffic. Protestors and their leaders have demanded the resignation of prime minister Edi Rama.
The protest continued for several hours, but the leader of opposition said that protests will continue, until, like he said, prime minister Rama steps down.
"The biggest threat is the drug cartel, the drug lords. It's them who before the last elections devised their plan and today, they have set  it in motion and the plan of the drug cartel has been to buy election after election, to buy power, air, land, water and freedoms of Albanians. But they will not be able to do it, because Albanians are stronger and more united than ever. There's one responsible here. The people knows that he's Edi Rama, who has been lying Albanians for two months in order to conceal the shocking truth of traffic of narcotics and drug through the air. Therefore today, we start this battle to continue it tomorrow, after tomorrow, next week, every day, every week and month until Edi Rama steps down", said Mr. Basha.
Nevertheless, the leader of opposition admitted that no political rotation or early elections are being required. He said that the solution is the resignation of Mr. Edi Rama and added: "We're not demanding elections, but we demand the departure of Rama and his government, we're not asking anything else. We're not demanding a new political majority, although we're within our right to demand it. But, we demand for this majority to reflect what the majority of every Albanian, rightist or leftist.
***
"The responsible Edi Rama must go home"
While the protest was taking place outside parliament, within parliament a special session took place on the international traffic of narcotics.
The most heated debate took place between prime minister Edi Rama and former prime minister Sali Berisha. Both of them decided to leave ethics on the side. With a language full of insults and under the media spotlight, they didn't save the accusations, insults and challenges to each other, by turning this session into a political show. /ibna/