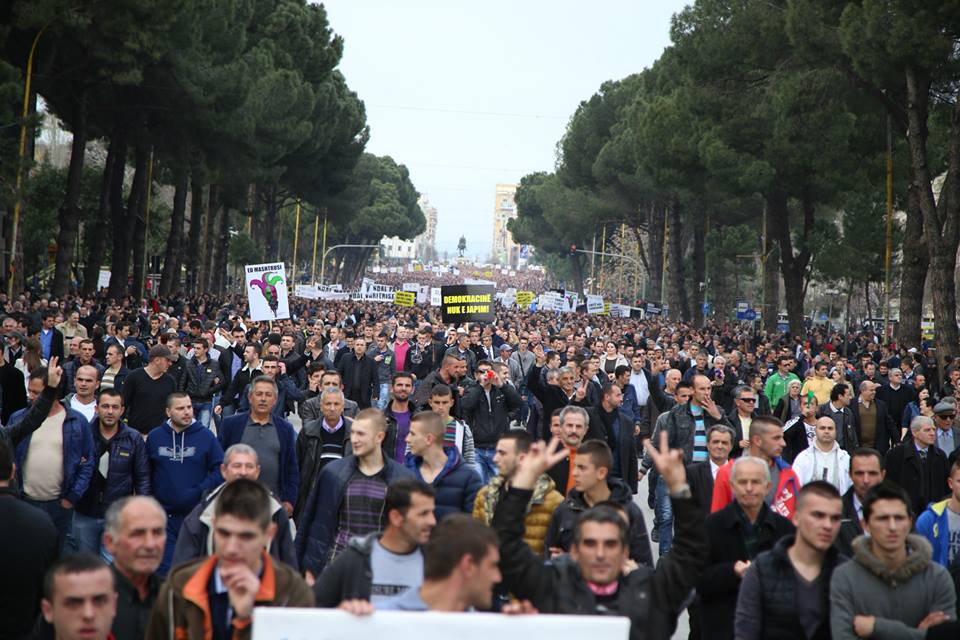 Tirana, February 20, 2014/Independent Balkan News Agency
Albanian opposition has managed to gather this afternoon (20.02) in the center of the capital, Tirana, a considerable number of people in a rally (photo) against what they call unkept promises of the government of prime minister Edi Rama.
The protest was led by the opposition leader, Lulzim Basha. Present in this rally was also the former prime minister of the country, Sali Berisha.
According to the opposition, tens of thousands of protesters from all over Albania participated in this rally.
Authorities had taken high security measures. Large numbers of police forces were noticed in the main entry points of the capital. Democrat MP, Sali Berisha accused police, a few minutes before the start of the protest, of preventing people to come to Tirana from other districts.
The Council of Ministers' building was surrounded by a police cordon consisting of women officers.
Speaking on the protest, Mr. Basha said that under the leadership of Edi Rama, the economic situation of the citizens has deteriorated.
"We're together to point our finger to the government for being responsible for this serious situation and to warn it to urgently return to lawfulness before it's too late".
Basha suggested that "there's only one way out of this situation" and added: "This way consists of nationwide rallies and protests like this one, which will be followed by other protests, until the prime minister meets his promises one by one".
The participants in this rally chanted "We will overthrow the government in a peaceful way".
The entire protest lasted about an hour and ended without any incidents.
Opposition measured its strength
Today's protest was the first national manifestation that the right wing opposition is holding after the big defeat suffered in the parliamentary elections in June of last year. After 8 years in government, whereby during the second term in office it governed with the second largest political force of the left, the Socialist Movement for Integration, prime minister Berisha's government left power with a small number of seats in parliament.
Besides the serious weakening of DP, the main political party of the right wing, there was a growth of SMI by five times. After governing with the DP for 4 years, SMI once again joined the left and the coalition led by the leader of the Socialist Party, Edi Rama.
Analysts see today's protest of the opposition as a barometer of strength in an attempt to start the recovery of DP following the serious defeat suffered last year.
Local government elections will be held in 2015. They are seen as an important indicator of the electorate. It will show whether it will change compared to last year or whether it will continue to strongly support the left like it happened in the last parliamentary elections. /ibna/