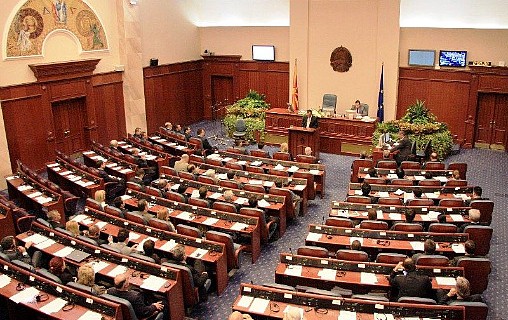 Skopje, September 24, 2013
Albanian parliamentary parties have demanded urgent constitutional changes and for the Albanian language to become officially the second language in FYR Macedonia.
This issue was raised in the framework of the debate for the constitutional proposed changes by VMRO-DPMNE of prime minister Nikola Gruevski, for the definition of the marriage as union between a man and a woman, thus ruling out marriages between the same gender.
PDSH lawmakers said that the debate for constitutional changes must also include the issue of the use of Albanian language. The MP of this party, Orhan Ibrahimi demanded from the vice speaker of parliament to be entitled to use the Albanian language, as the law on the legislative institution prevents her from using it.
"Two years as speaker and you've never presided a single parliamentary session. Usurp the position that you hold and use the Albanian language", said PDSH lawmaker. A similar request for the use of Albanian language as a second official language was also made by RDK lawmaker, Naxhi Xhelili. He said that constitutional changes are needed in order to regulate this issue. "We're in favor of constitutional changes in order for Albanian language to become the second official language in the country", said Xhelili.
VMRO-DPMNE lawmaker, Vlatko Gjorcev reacted by saying that the demands of Albanian parties are groundless.
Suzana Saliu from BDI said that FYROM needs a clear Constitution, in order to avoid interpretations which cause ethnic disputes.
In order for these constitutional changes to be made, two third of MPs must vote in favor of them. /ibna/