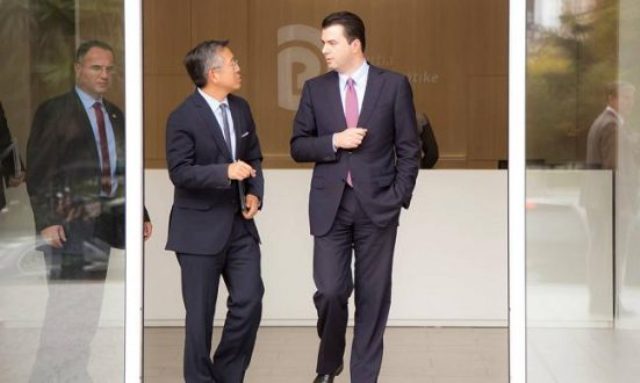 Tirana, 29 June 2016/Independent Balkan News Agency
A statement issued by the US ambassador to Albania, Donald Lu, who accused the opposition of rejecting three solutions offered by the USA on the reform in justice, prompted the reaction of the democrat leader, showing his determination as far as the opposition's positioning is concerned.
The opposition leader, Lulzim Basha expresses his determination that "without materializing recommendation 88 of the Venice Commission for all four institutions in the package of amendments, then there will not be an opposition vote on the Reform in Justice".
Mr. Basha made his declaration a day after the US ambassador, Donald Lu said that the head of the opposition has always found something to reject.
Commenting on Lu's declaration that the USA offered three solutions, Basha admits that he has received proposals, but he adds that these proposals avoided the Venice Commission recommendation. "I have received proposals, but they have been similar and avoided recommendation 88 of the Venice Commission. In contrast to what is being claimed, no proposal which with one hand offers the 3/5 or 2/3 of votes mechanism and the other undoes the quorum through a mechanism which offers to the government total control on the drafting of lists, by excluding the opposition from every role, can be reasonable", Mr. Basha said.
The leader of DP says that he's in contrast with the international community, which according to him, has sent the government messages regarding a Reform in Justice through consensus and not by trafficking votes. "I have been and still am in intensive communication with relevant factors in Washington, Brussels, Berlin, Paris, Rome and London. The Albanian government has received clear messages to forget blackmail and trafficking of votes and look for consensus, because this is the only way to attain a sustainable reform in justice, which serves the citizens and not the government. This can be heard by those who have ears", Mr Basha says.
The reform in justice system has been blocked on the issue of appointments in prosecution and courts which will be established once the system is reformed. The opposition wants to be entitled to reserved places in these institutions, but the majority considers them unacceptable. /balkaneu.com/
USA is directly involved in the debates for the reform in justice in Albania