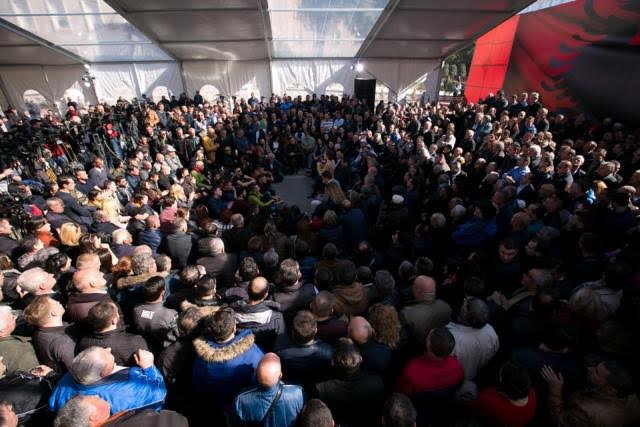 In Albania, the leader of opposition, Lulzim Basha is exploiting the protest taking place in front of the government's building, which has entered its eleventh day, to make electoral propaganda, although the election campaign for the June 18 election is not due to start for another couple of months.
On Tuesday, the opposition leader talked about pensioners. On Tuesday, Mr. Basha made the sensational promise that when he comes in power, there will be no pensions below 25 thousand ALL a month or 200 euros.
"Within 4 years, pensions will grow by 40%. There will be no pensions smaller than 25 thousand ALL a month. This is possible by a government that thinks about the people, by a government committed about the fate of every category of society and pensioners in particular. At the end of the first mandate, there will be no Albanian pensioners receiving less than 25 thousand ALL a month", the leader of DP reiterated.
In Albania there are around 650 thousand pensioners and an increase of pensions by 40% will require many funds.
The government has announced that pensions will see a rise in March by 3%.
For the end of the year holidays alone, the government distributed bonuses for pensions, which amounted to 2500-3000 ALL per pensioner or 15 million USD in total. /balkaneu.com/