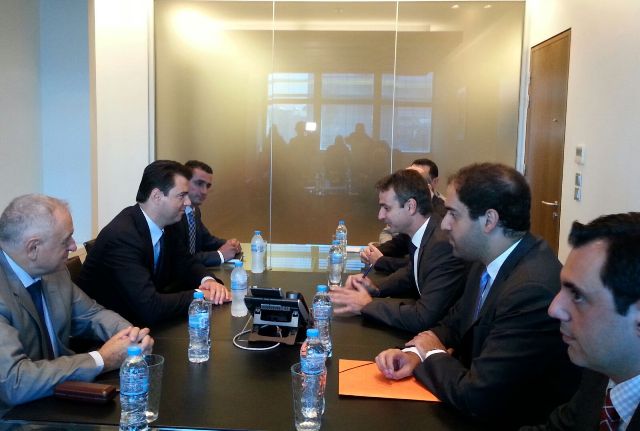 Tirana, 7 July 2016/Independent Balkan News Agency
Leader of the Democratic Party, Lulzim Basha has started a tour of meetings in several EU member countries. The meetings are held in an effort to find common points between the sides and consolidate the relations between the countries.
Mr. Basha was in Italy and Germany where he held different meetings with officials of these countries.
At the focus of these talks was the issue of emigration.
Currently, Mr. Basha is in Greece, where he has been received by senior political leaders. Basha met with the leader of Nea Demokracia, Kyriakos Mitsotakis and a meeting with the Parliamentary Group of Nea Democracia and the head of the Parliamentary Committee of Foreign Relations, Kostas Duzinks.
The leader of the Democratic Party was also received by the head of the PASOK parliamentary group, Andrea Loverdos and the leadership of the Greek Democratic Party.
Mr. Basha considered the relations with the neighboring country as very important and stressed the DP's engagement to further advance with these relations which also have an impact in improving the living conditions of Albanians who live and work in Greece.
To fully exploit the potential that exists in the relations between Albania and Greece, Mr. Basha said that it is very important to handle in the spirit of cooperation and good neighboring relations all pending issues in order to resolve them by showing mutual will and European vision.
In this framework, Mr. Basha also suggested the cancellation of the war law as an issue which would have a very positive impact in bilateral relations.
In the meetings held with leaders of political parties and MPs of the foreign committee in the Greek parliament, Basha has asked for their support in the process of the liberalization of visas for Kosovo and Albania's path of accession in the EU.
This is the first time that an opposition leader in Albania undertakes such incentives in circumstances when he's not in power. /balkaneu.com/