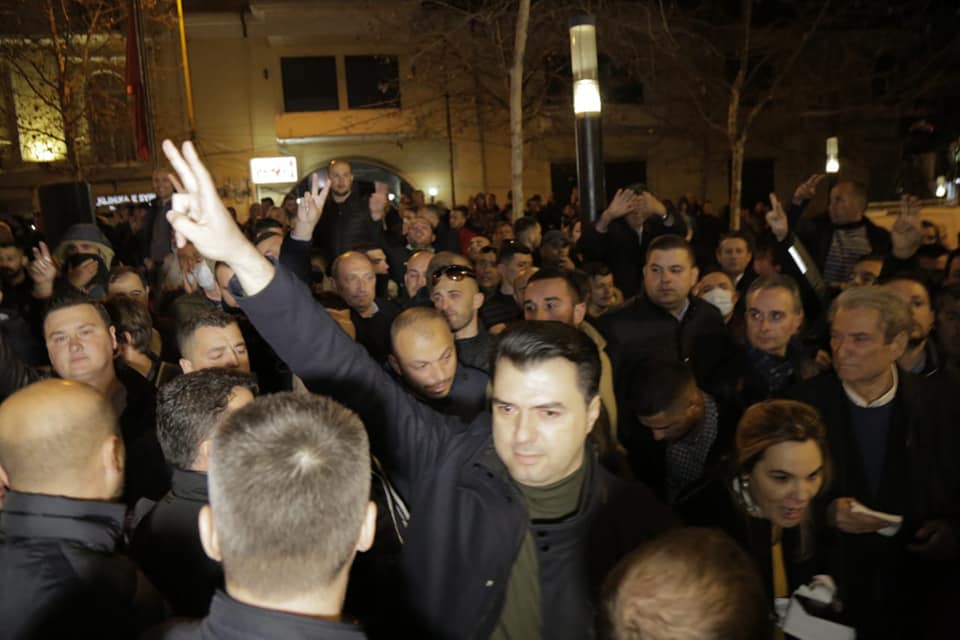 After yesterday's protest of the opposition, which was held in front of parliament, the leader of the Democratic Party, Lulzim Basha addressed to a crowd of supporters who had gathered in front of this party's headquarters. This time, Basha said that not only protests will continue, but that there will also be civil disobedience. According to him, the opposition no longer obeys to police either, stressing that "we no longer recognize parliament and this criminal police". Basha said that civil disobedience "will expand from the south to the north of the country. "You have risen and will not stop until freedom and democracy prevail. I'd like to thank hundreds and thousands of Albanians who gathered here in a matter of hours", he said.
Meanwhile, Basha also told the crowd of protesters that the journey that the opposition has embarked on is a one-way journey and that they should fear nothing.
"We are not scared, because we're fighting for a fair cause, for a fair mission, for the future of Albanians. We fight for freedom and democracy, we fight for free and fair elections. The battle has started. The long and short history of this country tells us how this battle will end: Criminals will be ousted and democracy will prevail", Basha said.
In the end, the opposition leader has called on citizens not to surrender, because the victory belongs to them and not the government. "There's no turning back in this battle that we've started", he appealed among others.
"Edi Rama ordered a chemical attack"
The leader of the Democratic Party, Lulzim Basha accused Prime Minister Edi Rama of using chemical substances against protesters. "Today, Rama ordered something which has never been ordered before; a chemical attack against children, sisters, mothers and pregnant women who were protesting in front of parliament", he declared in front of the crowd of protesters.
Meanwhile, he added that "Rama has waged war to his citizens". "On behalf of DP, the opposition and Albanian people, Edi Rama should know that he will be held fully accountable of this war that he's waged to his own people", was Basha's message addressed to the Prime Minister.