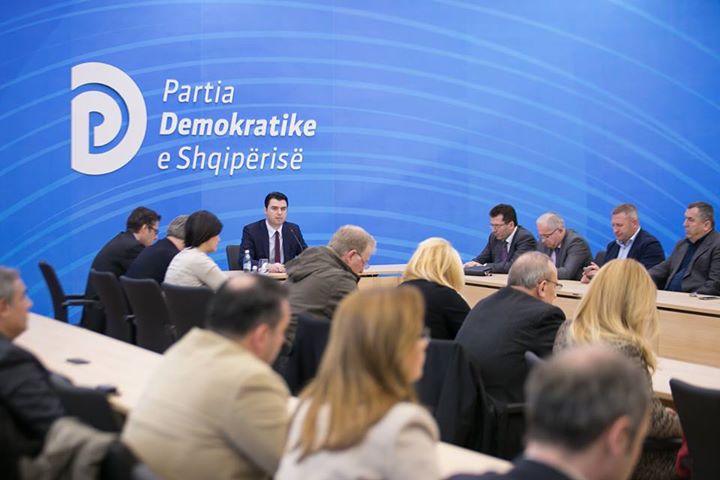 Tirana, February 18, 2015/Independent Balkan News Agency
In Albania, the Albanian opposition announced that it will start an election campaign, which according to it, it's more motivated than ever by the numerous problems that concern citizens ahead of the local government elections of June 21.
Opposition leader, Lulzim Basha, who is also mayor of Tirana, said today that a new slogan will be launched. The slogan is "A new Start".
Mr. Basha explains the reason of this slogan. "The New Start, with everything that it contains and means, first of all with the daily experiences of people's lives and the reflection of their problems and hopes in our proposals and policies, is a project and a challenge that we can only win with the citizens and for the citizens of this country".
Basha launched the new slogan in the meeting of the Democratic Party parliamentary group, the largest opposition party in the country. He said that the government has been recently involved in powerful propaganda, which according to him, comes in the framework of the election campaign.
Basha said that the hour of the vote is close and that this vote will judge, according to him, a government based on lies and fraud.
Based on these reasons, the opposition is expecting to grab a convincing victory in the local government elections. "This will be the moment when voters will decide if they will accept or refuse the model of lies offered by Edi Rama and Ilir Meta. We, the opposition, are convinced that Albanians will refuse it and this will be a lesson which will be long remembered by Rama and Meta".
The democrat leader is expecting "this reply to come not only by opposition voters, but also by those who voted the left wing coalition in the last elections". At the same time, Basha is expecting people who are not happy with this  government to vote about the opposition: "We're expecting a large number of left wing voters who have asked themselves: did we vote about this government to suffer more?"
In the elections two years ago, today's opposition suffered a heavy defeat by winning only one third of parliamentary seats. The right wing PM,  who governed for 8 years, Sali Berisha resigned and the newly elected leader was Lulzim Basha, mayor of Tirana and several times minister in Berisha's governments. /ibna/