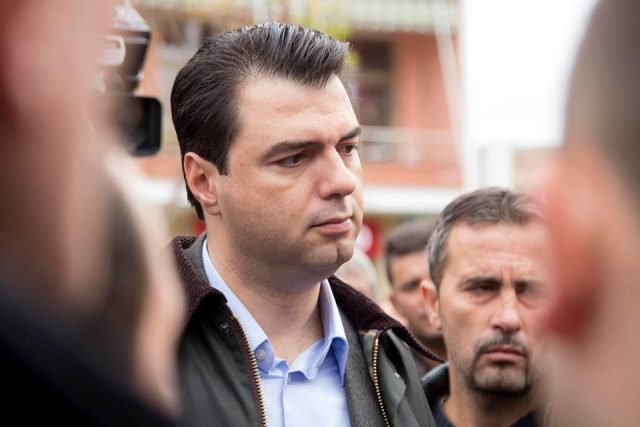 Leader of the right wing says that "on 8 December 2015, Albanians will unite to take the destiny of the country in their own hands"
Tirana, 25 November 2015/Independent Balkan News Agency
By Edison Kurani
On the day that symbolizes the overthrowing of communism by students, on 8 December, the Albanian opposition announces the start of a wave of massive protests with the aim to overthrow the left wing government.
The leader of the Democratic Party, the largest opposition party in the country, Lulzim Basha, says that Albanians are motivated to remove this government and mentioned a number of factors, which according to him, will encourage the people to start "the big march".
"Albanians do not have any hopes that this government will offer any solution, therefore on 8 December they will unite to take the destiny of the country in their hands", Basha says, thus warning a demonstration which can have serious consequences.
"There is no hope that this government will bring any solution. The solution comes through its removal from power. Our call to unite on 8 December in Tirana and start a big march for the removal of this regime, has been welcomed by all the citizens of the country", Mr. Basha appeals.
According to him, with the budget and tax package that it has brought, the government is clearly showing that next year will be a more difficult one. Basha says that Rama "intends on offering more luxury to himself, but not investments that bring new jobs" and adds:
"Rama will apply more austere measures for the citizens by increasing social and health contributions. Not a penny more for teachers, nurses and administration workers. Not a penny more for pensioners. Meanwhile, prices increase on a daily basis, power supply bills have increased, fuel price is the highest in the region and beyond and fines and penalties have become widespread".
Leader of opposition says that "extreme poverty, economic crisis, the freezing of business, production, agriculture and economic slowdown are dramatic" and stresses that he sees this "every day in the meetings that he has with citizens in every corner of the country".
Meanwhile, he warns: "The government is hoping that the citizens will get used to evil, but this will never happen".
Since June 2013, when the right wing lost the general elections and went into opposition after 8 years in power, the democrat leaders has attempted in several occasions to hold massive protests. In several occasions, he has warned the overthrowing of the government, but these protests which aim at overthrowing the left wing government, have remained sheer declarations. /ibna/