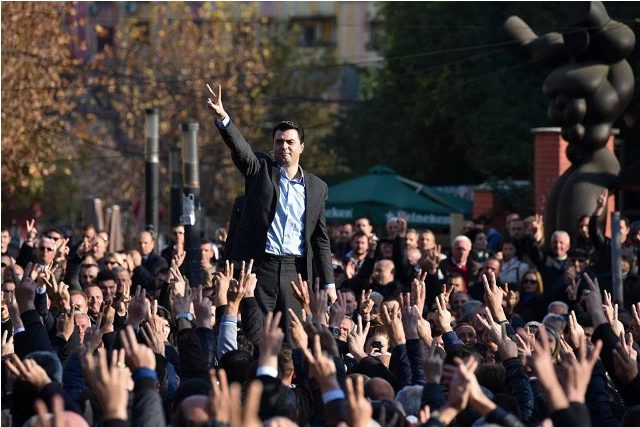 The Prime Minister invites the DP to read the results of the last elections, where the right wing suffered a big defeat
Tirana, 17 December 2015/Independent Balkan News Agency
By Edison Kurani
The Albanian opposition announced today its decision to continue the protests in a peaceful way until the government led by the socialist PM, Edi Rama, resigns.
At the end of the protest in front of parliament, leader of the opposition, Lulzim Basha said that the only chance to save Albanians and Albania from bad governance is to create a technical government and prepare the country for early elections.
Mr. Basha praised the protest and protesters who, according to him, have defeated fear. "I'd like to kneel and honor those who killed fear, those who bear the spirit of protest and those who rise against the government. We are announcing to the government the irreversible decision of the Albanian people, 'Rama, leave! Meta, leave!'".
Basha also said that "it's been two years that this government behaves like a gang, that the national economy and the economy of every Albanian has been ruined." According to him, "the government has destroyed jobs, over 70 thousand Albanian households lost their social allowances, by forcing people to flee abroad".
"Two years in an unprecedented economic crisis, two years of poverty, therefore, Rama must leave", Basha said.
Meanwhile, PM Edi Rama doesn't seem very disturbed by the opposition's plans to continue the protests. He suggests to the opposition that "as far as the people's revolt is concerned, it must find the ability to read the election result".
Rama invites the DP and its leaders to read the results of the "2013 and 2015 elections and then be prepared to read the 2017 results".
In today's protest, attendance was smaller than on 8 December. The opposition has announced another rally on 21 December. /ibna/