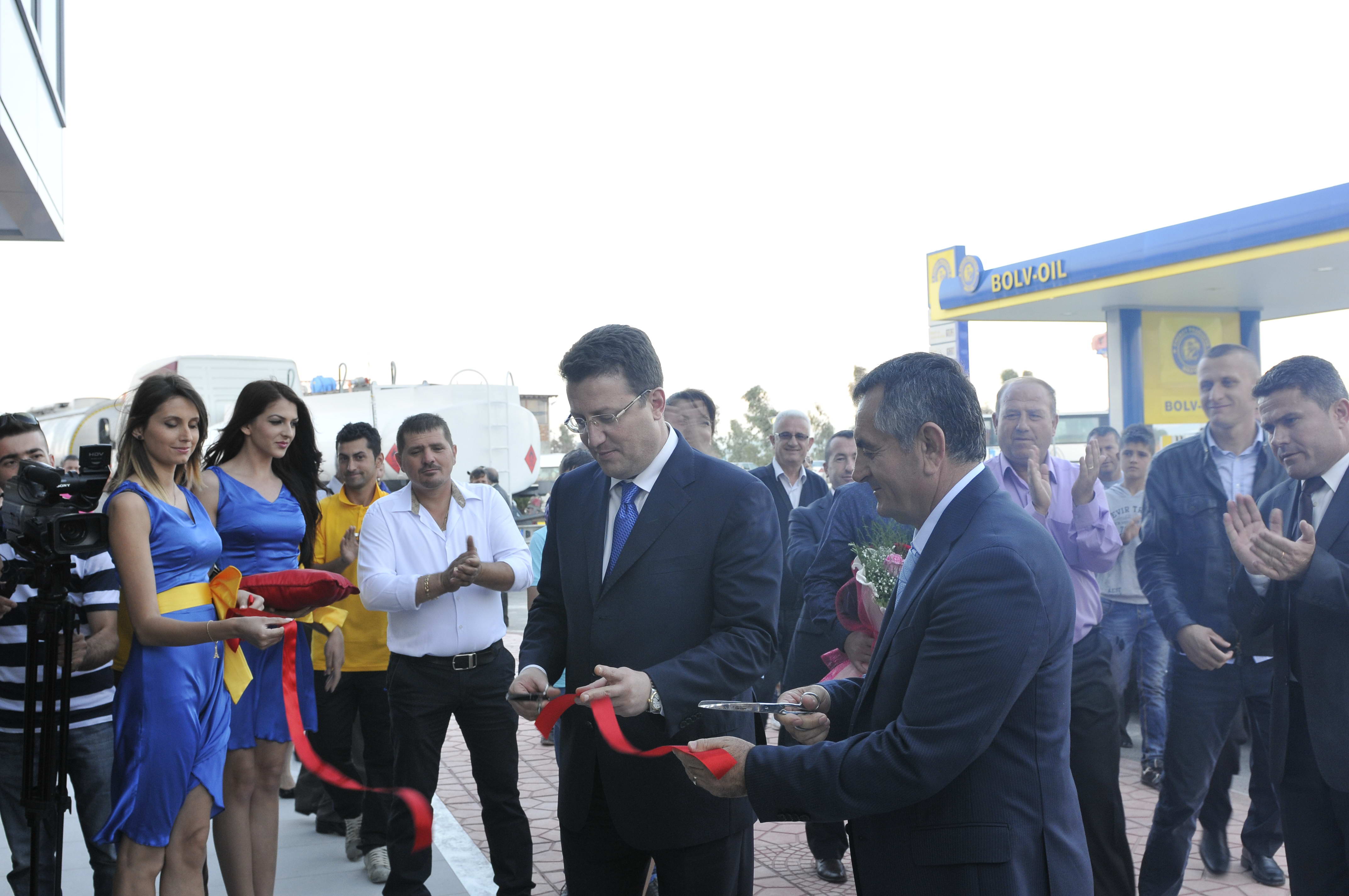 Tirana, May 27, 2013
The Joint Stock Company "Bolv-Oil" marks the tenth anniversary of its establishment. On this occasion, in the new company premises in the village Beline, Commune of Zharrez of the Fier District, the ceremony of the celebration of the tenth anniversary of the company establishment was held, as well as the inauguration of a new building and a complex of services took place.
In this ceremony we were honored by the presence of many friends from various business areas, officials of the government institutions, etc.
This ceremony (photo) has been attended also by the Minister of the Public Works and Transport Mr. Sokol Olldashi, the Mayor of Patos Mrs. Rajmonda Balilaj, managers of the Bankers Petroleum Company etc.
Bolv-Oil is the parent wholesale and transports company that operates fuels and other combustible throughout Albania. The Company was born after the success of the Company Olsi Ltd. that is operating since 21 years in the retail trading of fuels and employs about 400 people.
About two years ago the Joint Stock Company Bolv-Oil, purchased shares of the company Porto Romano Oil Ltd., Durrës expanding the activity further with the fuel deposits in Porto Romano.
Also, an important part of investing and trading activity is the wholesale of fuels, such as the solar, brute oil, and gasoil.
Actually, the Joint Stock Company Bolv-Oil owns up to 30 per cent of the entire consumption market in Albania and its progressive growth continues.
Bolv-Oil is partnered with the prestigious Canadian company, Bankers Petroleum and many other public and private domestic and international institutions.
The Minister of Public Works and Transport, among others emphasized the fact that during the last seven years the production of the crude oil has been increased 2.1 times. Further, he evaluated the investments of "Bolv-Oil" and added: "Providing the policies that help the private enterprises in this sector, is the adequate path towards the development the extracting industry, to increase the employment and grow the well-being of thousand families living with the incomes of the employed people in this sector".
The president of the Company Mr. Behar Çukaj said: "Working hard, making serious investments and with the conviction of being the closest possible to the new technology, we have achieved to create all the necessary logistics for the normal functioning of the Company according to international standards. We are proud of cooperating with the public and private institutions in Albania and in other countries."
Another important service of Bolv-Oil is the transport of fuels and other combustibles. This is supported by tens large capacity tankers that make Bolv-Oil, the main partner in the field of the transport with various domestic and foreign companies operating in the oil extraction and processing sectors in Albania.
In the framework of the social accountability the Company has influenced significantly in alleviation of unemployment in areas where it operates, growth of the well being and the development, improvement of infrastructure and business promotion. Also the Company contributes for the continuous financial assistance and alimentary aid for the poor families in the County of Fier. /ibna/