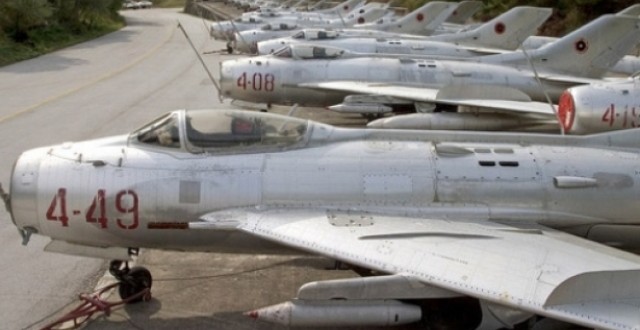 Tirana, 3 February 2016/Independent Balkan News Agency
Ministry of Defence has announced the auction sale of military aircrafts and helicopters in order for them to be bought by different subjects for non military use.
According to the auction's documents, there are 40 aircrafts and helicopters of different types, from Yak 18 to Mig 21, which were once the pride of the Communist Albania Air Fleet.
Their price starts from 1,1 million ALL to 1,9 million ALL. Based on these documents, the ministry if expecting to gain 61.4000.000 ALL or 445 thousand euros out of this auction.
Albanian Air Force was officially created on 24 April 1951. The first aircrafts were the Soviet aircrafts produced after the Second World War, Yak-18, which landed in the airport of Lapraka in the west of Tirana.
A few years later, Albanian Air Forces would be equipped with fighting air jets produced in Russia, while after the fall out between the Albanian communist government and the Soviet Union, the air defence was trusted to the Chinese aircrafts and helicopters. They landed in Gjader, Tirana, Kucova and Vlora.
The tender for the sale of these aircrafts and helicopters will be held on 22 February 2016 at the Ministry of Defence. /ibna/