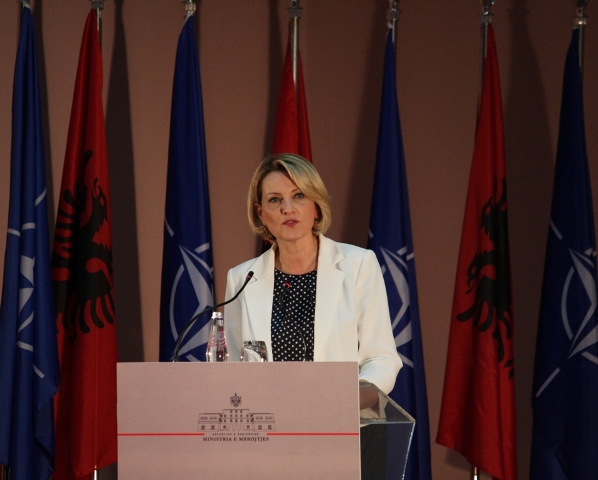 Tirana, July 16, 2014/Independent Balkan News Agency
Albanian Minister of Defense, Mimi Kodheli held today an analysis of the first 300 days of work in this ministry. In her speech, Kodheli said that the reform that is taking place in the armed forces is being driven by NATO standards. According to minister Kodheli, the modernization of Armed Forces is in line with the long term plan.
According to Kodheli, the transformation of the problematic reality is a challenge of this institution. The minister pledged that the reform that has been started will be finalized.
"It will no longer be an instrument in the hands of the parties in power. Law and the law alone will prevail in the Armed Forces of the Republic of Albania", said Kodheli.
Speaking about the management of the finances of Armed Forces, Kodheli said that financial management and control are being drastically improved, in order for every penny allocated for the Armed Forces to reach its destination.
"A functional audit has been established for the management of the funds. This audit is supporting us in meeting our objectives for the efficient use of all economic sources. Infrastructure: We have suspended all abusive activities with the properties of Armed Forces. We have started a rigorous process for the verification and completion of documents for every property", said the minister.
As far as corruption is concerned, Kodheli declare that the number of cases taken to the prosecution continues to increase, by adding that every penny spent by the defense budget will be scrutinized by the justice system. /ibna/