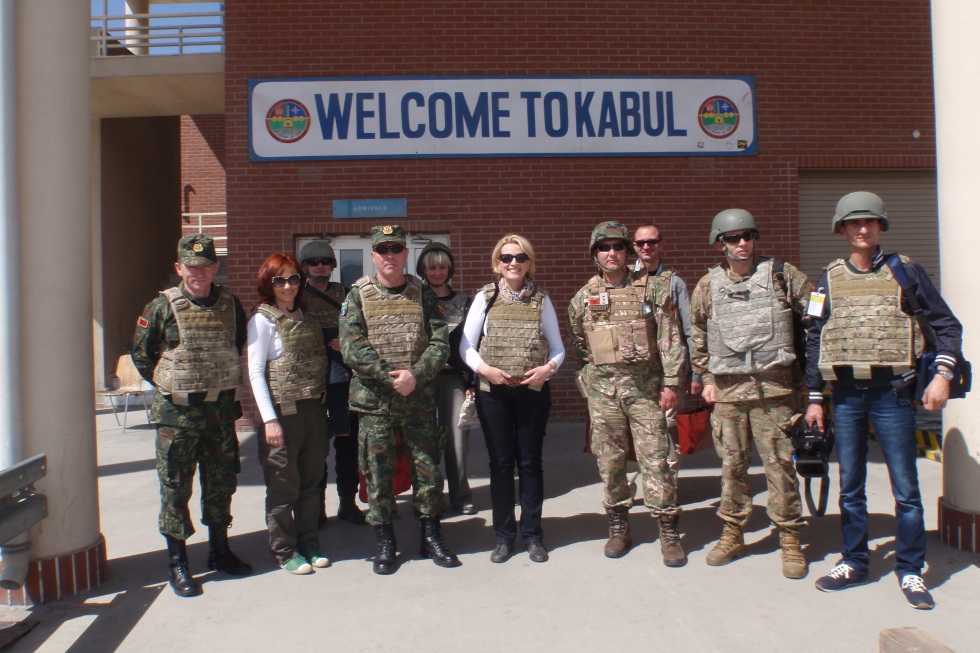 Kodheli's visit to Afghanistan comes at the peak of debates taking place in Albania in relation to the suspicions for involvement of military assets of the ministry of Defense in drug affairs. Opposition denounced repeated cases of the use of military bases for international traffic of narcotic substances through the use of airplanes. The government categorically denied these accusations, until this weekend, an airplane which attempted 500 kg of narcotics, was discovered in Divjake
Tirana, May 12, 2014/Independent Balkan News Agency
Minister of Defense, Mimi Kodheli and the General Chief of Staff of the Armed Forces, general major, Jeronim Bazo, held a 24 hour visit to Afghanistan (photo). This visit was held away from the attention of the media and was only made public once it was completed.
Heads of the Minister of Defense and the General Staff of Armed Forces, met with the ISAF Commander, General Joseph F. Dunford, NATO ambassador to Afghanistan, Maurits R. Jochems, general lieutenant, Joseph Anderson, Commander of United Command and general brigadier, James E. Rainey, vice commander of the Regional South Command, the command under which Albanian special troops operate in their peacekeeping mission in Afghanistan, in the region of Kandahar.
In their meetings with civil and military heads, minister Kodheli and general major Bazo discussed on the problems of the transition of ISAF mission after 2014, for the current operational aspects, the contribution that Armed Forces of Albania are giving in this operation and the perspective of the contribution of Armed Forces in the post ISAF period.
Speaking on the visit, Kodheli said that it served to directly contact with the Albanian troops on field, namely with the MAT 5 and Eagle 8 members, two missions that operate in Kabul and Kandahar alongside allies.
Kodheli said that she informed our military men about the reformation that Armed Forces are undergoing, on the work being done to improve legal framework, which aims to restore the dignity of the army in accordance to NATO standards.
"In the meetings that I had with senior military and civil leaders, I noticed that Alliance commanders on the field share the same opinion: "Albanian special troops are responsible and keeping up to their task" and this filled me with joy and pride", said the minister of Defense.
Kodheli's visit to Afghanistan comes at the peak of debates taking place in Albania in relation to the suspicions for involvement of military assets of the ministry of Defense in drug affairs. Opposition denounced repeated cases of the use of military bases for international traffic of narcotic substances through the use of airplanes. The government categorically denied these accusations, until this weekend, an airplane which attempted 500 kg of narcotics, was discovered in Divjake, /ibna/