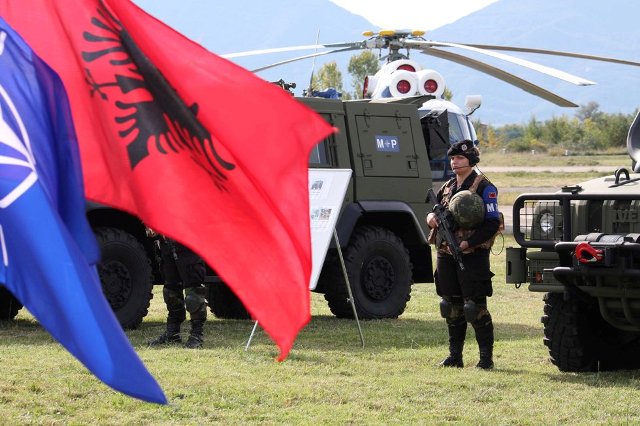 Tirana, 2 November 2015/Independent Balkan News Agency
Albanian Ministry of Defence has purchased two new helicopters for the Air Force search and rescue operations, while four armored vehicles have been purchased for the Military Police.
Two EC-145 helicopters have been purchased for the air forces, while for land forces, four "Lince" armored vehicles. Minister of Defence, Mimi Kodheli, the general chief of staff, general major Jeronim Bazo, the commander of Air Forces, general brigadier Vladimir Avdia, ambassador of the Republic of France to Tirana, Mr. Bernard Fitoussi, Italian charge d'affaires Marcello Cavalselle, military attaches accredited in our country, etc attended a ceremony held on the occasion of the purchase of this new equipment.
Minister of Defense, Mimi Kodheli says that the purchase of this equipment marks the finalization of the program of modernization of Armed Forces with six helicopters that operate with the same standards as NATO forces.
She adds that "with the formation of pilots and technicians in prestigious airline companies, our Armed Forces will be an added value not only in guaranteeing security and better quality of aircraft services within the country, but at the same time, we will be able to conduct joint operations in cooperation with NATO commands to solve different situations". Kodheli values the strengthening of Military Police with four "Lince" armored vehicles.
These vehicles, she says, will help in boosting technical and operational capacities of the mission and also help Military police to deliver its tasks. Kodheli says that this new equipment will assist in developing, completing and boosting the operational level of this structure in conducting difficult operations in highly dangerous areas.
The Ministry of Defence has not published any official figures about the cost of the new equipment. /ibna/