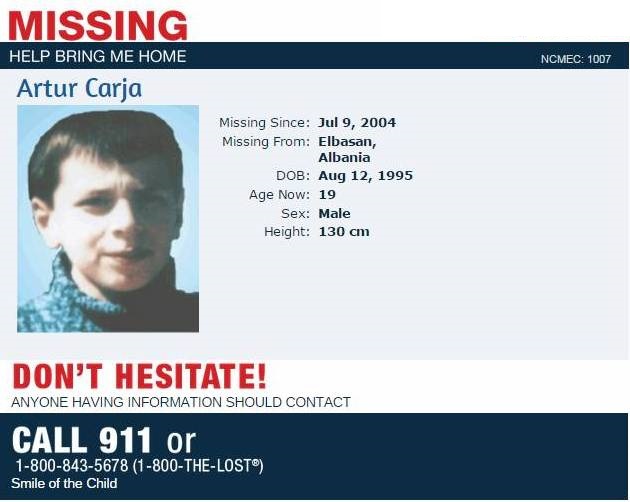 Tirana, 26 May 2015/Independent Balkan News Agency
By Edison Kurani
When one crosses the land border from Albania to Greece, on the corner of the window, one will see a piece of paper and a photo. In it, there's a description of a lost child and contact information in case he's found.
This photo has been there for many months, but without any success.
Like this case, there are around 48 others in Albania, with children who have gone missing for years.
On the World Day of Missing Children, the National Line for Lost Children notes that from 2009 until 2014, the number of missing children has gone up by seven times.
Mirgit Vataj, coordinator of CRCA (The Children's Human Rights Centre of Albania), says that female children and children under the age of 14, are most exposed to kidnappings, disappearance and trafficking.
Global statistics show that every day in the world, around 22 thousand children go missing or 8 million children a year. One in 7 missing children is likely to become a victim of trafficking and exploitation.
Another fact is that 30% of the victims of international traffic of children originate from Southeast Europe.
Mr. Vataj stops on the problems of Albania. Search on field and cooperation with police have concluded that on a daily basis, one child is thought to be leaving or has already left home in Albania.
"The absence of children and teenagers from home starting from several hours a day, is the most widespread form of manifesting the refusal of children in Albania to domestic situations, violence, abuse and neglect", says Mr. Vataj.
The history of Artur Carja, the boy who was never found although children used to be kidnapped
On 9 July 2004, Artur, who was then nine years old, had gone out in the market of the city, where he used to sell plastic bags in order to help his family. That afternoon, he never came back home. The family started to look for him, but without any success.
A lot was said about his disappearance. There were strong suspicions that he was taken to Greece.
Those years, the kidnapping of children for purposes of trafficking had turned into a phenomenon.
Two were the reasons why children were trafficked. One category exploited them to beg on the streets of Greece, thus earning something.
Some others kidnapped children with the purpose of organ trafficking. A clinic in a Greek province became target of a police inquest and media attention, on suspicion that it dealt with organ trafficking.
Arthur's family had these strong suspicions. It tried to learn what happened with the 9 year old, because he was taken in a car and disappeared from the market of Elbasan, to never come back again.
Local police never managed to fall on his tracks. Interpol has registered him as a search in progress, but nothing yet.
Arthur, who is 20 years old today, if he's still alive, is only one of the many boys and girls from Albania who have gone missing throughout the years. They were children and if they still live today, they have become adults.
But are there chances that some of them are still alive?
Missing People Foundation has constantly launched appeals in order for these missing people to be found.
Among the missing ones were also some of those who didn't want their existence to be known.
But why this voluntary disappearance?
Aida Shtino has moderated "Missing People" program for many years she has encountered such cases. The reasons relate to the Code of Lek Dukagjin and the fear from revenge and blood feud.
There have been cases when children who went missing in the '90s outside of Albania, have been found in the EU countries. They didn't want anyone to know that they were alive, as they feared for their life.
This fact is more painful when these missing people who were found, had no contact with family members. /ibna/