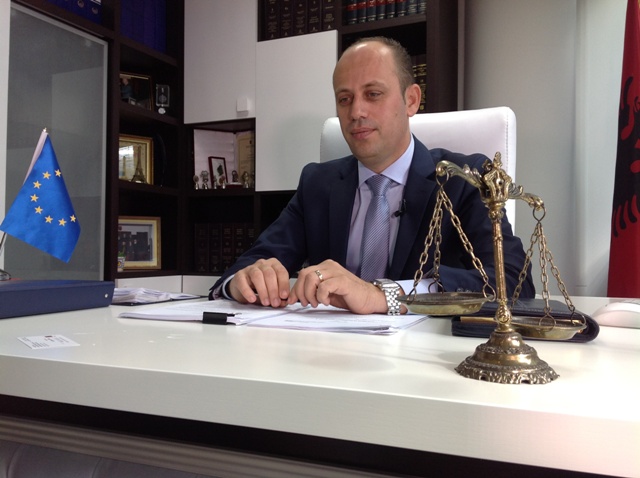 Insights from the chief justice at the Court of Serious Crimes of Albania, Sander Simoni
Tirana, 27 October 2015/Independent Balkan News Agency
A package of reforms in the justice system has been drafted by the governing majority in Albania and it has been sent for consultation to the Venice Commission. The package of reforms also includes constitutional changes.
These amendments which also affect the court system, are seen with skepticism by the Albanian judiciary body.
For the chief justice at the Court of Serious Crimes in Albania, Sander Simoni, it's unacceptable to use a model such as the one in Ukraine.
Simoni praises the reform launched by authorities. "We are more interested to see this system more efficient as a whole for the judiciary to be independent as it should be".
But to what extent was the court present in the process of the drafting of reforms? Mr. Simoni says that only two judges of the Supreme Court were involved in this process. He notes that judges were only invited in technical meetings, which focused on the criminal law system. "Later, we learned that with the presentation of the constitutional package, the main focus was on the drastic constitutional amendments".
Simoni identifies two standards used by the majority: "We were worried about the fact that initially, the magistrate school was considered to be an achievement and a success story, while now, it's not part of the criteria to be a judge. This offers an opportunity to other categories outside of this school", Simoni notes.
But what is the risk for this? Simoni explains: "This risks what the Magistrate School offered, one of the elements of independence, the fact that the appointment of judges may be politicized".
Recently, the government and PM Rama have attacked the judiciary system, launching strong accusations against judges in general. These accusations mainly relate to corruption.
As far as this is related, Simoni has a concern: "In my point of view as a judge, I fear that if the focus will only be on the fight against corruption, then fight against organized crime, traffic and money laundering may be neglected".
The government has also planned on setting up anti-corruption structures. Simoni is against and explains: This novelty doesn't take into account the fact that we have now created a tradition that corruption is considered to be a serious crime, having the same importance as organized crime or trafficking. For this reason, we don't need to set up constitutional anti-corruption structures, as we will avoid the current structure of the judiciary system and it seems as if we don't take into account the existence of the judiciary system in Albania".
As part of the justice reform package, the government planning to set up a court specialized on serious organized crime and corruption.
Currently, corruption is handled by the Court of Serious Crimes. Simoni is worried about the fact that the case of Ukraine is aimed at being used as a reference:
"The Venice Commission will be asked an opinion if we can take the Ukranian, the Serb or other models of the general reevaluation of judges, but we cannot be considered as a special case like Ukraine, as we are an EU candidate member country and our judiciary system has evolved. We have a problematic justice system, but also a functional one and the biggest problem in my opinion is that of labeling all judges as corrupt. A general reevaluation of judges insults that category that has worked with professionalism and ethics and the state must defend honest judges", Mr. Simoni says. /ibna/