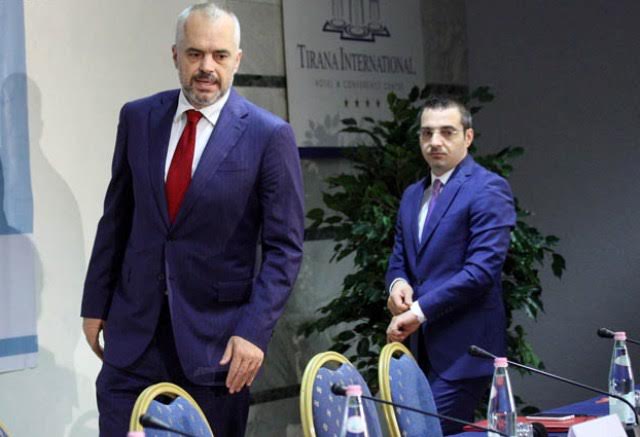 Tirana, 5 October 2015/Independent Balkan News Agency
Albanian justice becomes once again a target of the state attacks. PM Edi Rama and the Minister of Interior, Saimir Tahiri, have each used two activities today to attack institutions of justice.
Prime Minister Edi Rama used an activity for the graduation of 250 girls and boys in nursing and who will go to work as regular migrant workers in Germany.
Talking about the studies in which these young people are involved, Mr. Rama also criticized the way how the university system in the country has been developed.
"We became the country with the largest number of lawyers per square meter in Europe. We have more lawyers than any other country in the world. For this reason we have the most degenerate justice system in Europe. We have graduated lawyers, but we don't have judges, prosecutors and people of a normal justice system", Mr. Rama said.
The Prime Minister expressed the necessity of a normal justice system, promising that all political and judicial ties with crime will be cut off.
"The government will destroy what crime accumulated and we're seeing how it weakens on a daily basis. State Police will grow and will cut off all political, economic ,financial and judicial ties which have nourished and continue to nourish crime", Rama said.
Minister of Interior, Saimir Tahiri spoke during the homage in the honor of the vice commander of Rapid Intervention Forces, Simon Gjeta, who found death during the weekend in an operation for the capture of a person suspected of injury, who was then executed by special police forces.
Tahiri targeted the judiciary system and corrupt judges, which according to him, bargain at the detriment of police forces, that face crime and criminals on a daily basis.
For this, he referred not only to the killing of vice commander Gjeta, but also to the double murder taken place a few days ago at the center of Tirana, saying that the perpetrators had been arrested a few months ago, but were left to walk out through an agreed ruling.
"The perpetrators of this event were arrested a few months ago by police and were released by the justice system. Had they been given the deserved punishment, they would not have claimed the life of two other young people, but they received an agreed punishment", Tahiri said, adding that there's no more faith in the justice system.
For minister Tahiri, this broken trust will be solved with the reform in the justice system, "once judges who are more criminals than street criminals will not bargain with justice".
"The job of the police officer will never be completely safe, but there will be a time when the reform in the justice system will be completed, in order for judges who are more criminals than street criminals, not to bargain with justice. The battle for a deserved justice is the battle of everyone and we win this once we punish and also publicly humiliate all those judges who bargain with crime in their offices and the consequences are suffered by the citizens and police forces even more". /ibna/