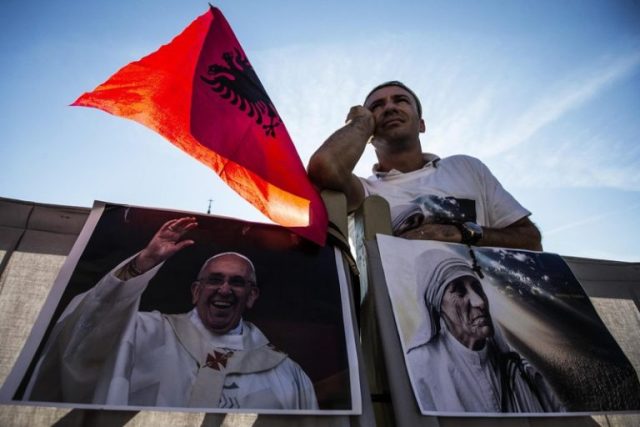 Tirana, 5 September 2016/Independent Balkan News Agency
By Edison Kurani
Mother Teresa, the Albanian Gonxhe Bojaxhi, was canonized in the Vatican amid a glorious ceremony which saw the participation of hundreds of thousands of believers from all over the world. The prominent humanitarian of Albanian origins was canonized by Pope Francis.
During the ceremony, which was broadcasted live in TV channels all over the world, Cardinal Angelo Amato read a biography of the work of Mother Teresa (1910-1997) and announced her canonization on behalf of the Church.
"After the necessary evaluation and frequent prayers for divine help and after the advice of the majority of our bishop brothers, we declare the Beatified Teresa of Calcutta a saint and place her among other saints, decreeing that she shall be honored as such by the entire Church", was the canonization text read in Latin by Pope Bergoglio.
After reading the text, the crowd erupted in applause. The ceremony was followed by a special mass.
At least 13 heads of states and governments from all over the world and over 100 thousand people followed in the Vatican the ceremony for the canonization of the humanitarian. Among them were also 1500 homeless people from all over Italy, who were brought to the Vatican by bus and were accommodated in the seats of honor during the ceremony.
In order for a person to be canonized, that person must be attributed miracles after death. The Albanian Nobel prize winner was canonized after death, as she is attributed two miracles, for which the Catholic Church says that they happened thanks to her, in the case of people who escaped death.
The first miracle was the healing of a 30 year old from Calcutta, who claimed that she had been cured from cancer in the stomach, after she had been praying to Mother Teresa. A committee in the Vatican said that it could find no scientific explanations for her recovery and it considered it a miracle.
The second case was the full recovery from a brain tumor, in an advanced stage, of a believer from the dioceses of Santos in Sao Paolo, Brazil. /balkaneu.com/