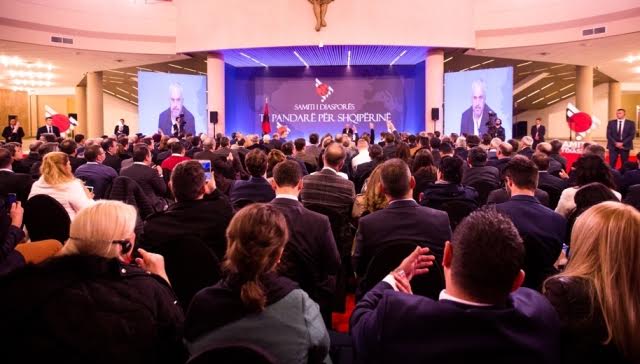 The Diaspora Summit has been held for the first time in Albania. This summit saw the participation of over one thousand Albanians who live all around the world. Among them, senior state officials from Albania and Kosovo, prominent business people and personalities from different domains from 40 countries of the world and representatives of over 300 Albanian associations.
With the motto "Undivided for Albania", the Summit aimed at serving as a platform of dialogue between Albanians to improve relations between Albanians who live abroad and those who live in Albania.
The dialogue that the Albanian PM had with over one thousand representatives of the Albanian Diaspora focused on the relations between Greece and Albania.
For this, PM Rama said that relations with Greece are of a strategic importance. According to him, these relations need to be elevated to another level, "by overcoming several problems that are encountered every once in a while as obstacles from the past".
Pending issues between the two countries
Rama says that a special group has been formed and full readiness has been offered in order to "sit down with the Greek side and discuss these issues with the spirit of constructiveness and by looking toward the future, based on the best European standards and principles".
The Prime Minister says that joint efforts have been launched, but he admits that it is not at all easy. He also talks about other obstacles, however, he hopes that "we can overcome these obstacles which do not serve to these important neighboring and strategic ties with Greece".
On the other hand, Rama says that "we have made it clear since day one that we don't intend to keep quiet, pretend we don't understand and even less, submit to things which are taken for granted when it comes to these relations".
The Albanian PM says that "for a long time, our neighbors were a little spoiled because here in Tirana, they had submissive interlocutors, who pretended they didn't understand anything on issues which cannot be avoided and for which we cannot pretend they don't exist. They are well known issues. Any Albanian who is interested on these relations knows what these issues are".
Rama believes that for each of them there is a solution in the spirit of friendly cooperation and respect for the standards and principles of our European family. But he adds that every once in a while, these are issues which take a certain importance and become obstacles because they relate to political situations, domestic debate, domestic political discourse, namely in Athens.
The Prime Minister warns that every issue will be addressed based on the basic principle of reciprocity. He says that "we have made it clear to our neighbors that these are issues that we don't intend to overcome and leave them pending".
Recognition of seniority years is still an illusion
Around one million Albanians work and live in Greece. After spending 25 years there, many of them are worried about their retirement. A number of seniority years are needed to benefit retirement pension. In Albania, this number must at least be 35. Majority of people who have been living in Greece do not meet this criterion. Most of them are planning to retire in Albania, but they cannot live without a monthly pension.
Now, they are worried and disappointed.
Theodhori Miho is chairman of the "Progress" Albanian-Greek Association of Workers and Friends of Thessaloniki. He expresses his disappointment about the fact that Albanians have worked many years in Albania and many others in Greece, but they cannot complete the seniority years for retirement, because there is no agreement between the two countries, as it's the case with other countries. Such agreement would enable Albanians to receive a pension in the country where they decide to live.
In the case of Greece and Italy, where there are many Albanians, their seniority years and pensions must be recognized.
Prime Minister Rama says that this is very difficult to achieve with both Greece and Italy, "due to the number of Albanians working there". Therefore, Mr. Rama still cannot see any light at the end of the tunnel.
"But we must continue to ask for it and insist. I am optimistic that the possibility to achieve results exists although it will not be a simple or a fast process". /balkaneu.com/