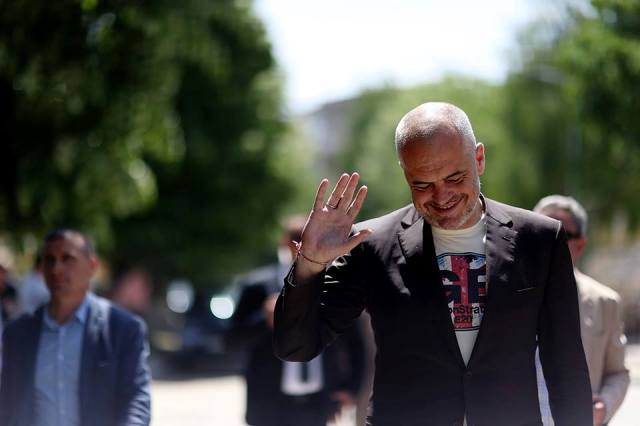 Tirana, 20 May 2015/Independent Balkan News Agency
By Edison Kurani
After Greece, Albania too uses its veto on Skopje's request for FYROM to become a NATO member.
This was announced today by PM Edi Rama in Tirana. For the first time, Rama talked about a "revenge" of the Albanian government against neighboring FYROM, when he said that Albania doesn't intend on accepting FYROM's accession in the NATO if the Ohrid Agreement is not fully complied with.
During his speech in the regional ministerial for the fight against terrorism, which sees the participation of Interior ministers of several European governments, Mr. Rama stopped on the events of Kumanovo and talked about Skopje's aspirations to become a NATO member country.
He also referred to the events of Kumanovo, when he further stopped on Albania's veto. "Unfortunately, in Kumanovo, the word terrorism and Albanian were joined together in an effort to name this ethnic group as terrorist. This is unacceptable not only for us, but also for the Macedonian state. It must be clear for this country that Albanians remain a state forming player in the country. Nothing more dangerous can occur to us in the fight against terrorism than the inclusion of the term terrorist in the handling of the events. The mixing up of these terms will be unacceptable for us, the same as the terror that was experienced by the innocent residents of Kumanovo. We all want a sustainable Macedonia, but not an inhabitable one. We want a Macedonia which is part of NATO, but not as a military coup. Macedonia cannot become a NATO member without guaranteeing the Ohrid Agreement", Rama said.
"Albania will support Macedonia in the NATO once the neighboring country fully complies with the Ohrid Agreement", added the PM.
This way, Albania becomes the second country after Greece which imposes its veto against Macedonia in the NATO accession.
The issue of the name of Macedonia, which is officially known by the name FYROM (Former Yugoslav Republic of Macedonia), has prevented Skopje so far to become a NATO member.
Now, it's the Albanian government that imposes a veto on FYROM in order for the latter to fully comply the Ohrid Agreement.
Albania is a NATO member country since 2009 and it has the right of veto, like any other member of the largest military organization in the world. /ibna/