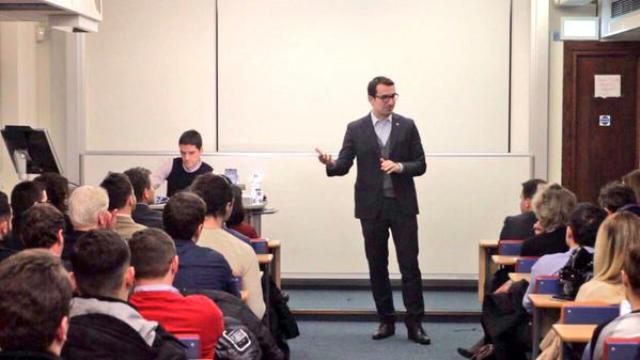 Minister of Social Welfare and Youth, Erion Veliaj addresses the World Education Forum in London. He demands foreign administrators to bring back professions
Tirana, January 22, 2015/Independent Balkan News Agency
Minister of Social Welfare and Youth, Erion Veliaj chose the World Education Forum in London to launch the new incentive of this ministry, "Train Albania!".
Veliaj said that the incentive aims at inviting and bringing to Albania Albanian and foreign teachers and administrators to contribute for the return of crafts through professional education.
"We're in a process where we're transforming professional education, focusing on the skills that the labor market demands and not the degrees issued in the past 20 years and which are not demanded by the market. We cannot continue to learn how tractors are build or other failed industries in Albania, therefore, we have noticed that in those schools where partnership with international teachers has been greater, productivity has been higher, the students are better and more likely to get a job", said Veliaj.
"Train Albania!" program aims at recruiting experienced Albanian and foreign teachers and administrators to contribute in our joint mission of bringing back crafts in Albania through professional education, by inviting them to be part of this incentive.
Candidates must be able to contribute at least one academic year in professional schools and be ready to be displaced in surrounding areas.
During his visit to Great Britain, Mr. Veliaj participated in the two day proceedings of the World Education Forum, where he announced the program of the Ministry of Youth and Welfare for professional schools and underlined the strategic importance of Professional Education in the fight against unemployment of young people in Albania. He also had a meeting with Albanians in Great Britain and foreign students at the University College of London, where he announced some of the latest incentives of the Ministry for professional education.
The Albanian government says that the fact that the government focused on professional education, led to a 40% increase of enrollments in professional schools compared to the number of students who completed their professional education in 2013. Today, 6 thousand students attend professional schools in Albania, offering 44 vocations and 110 teaching profiles. /ibna/