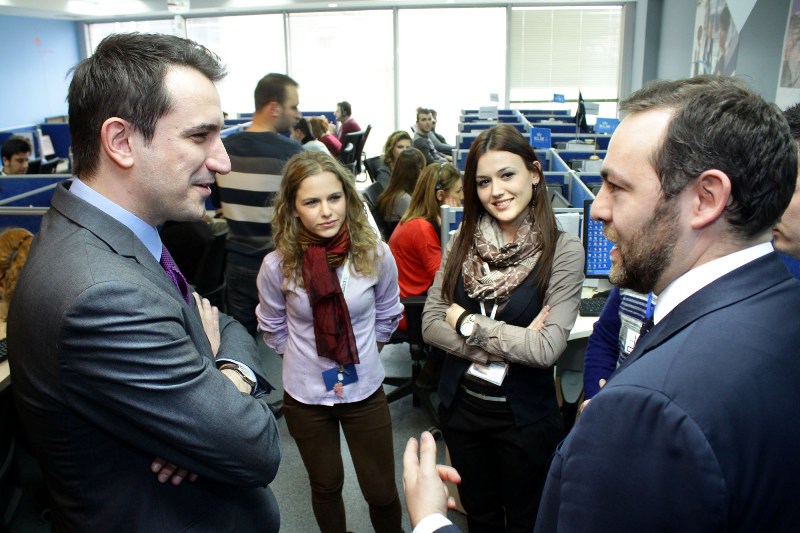 Tirana, February 1, 2014/Balkan Independent News Agency
Albanian government has decided to make Italian language an obligatory foreign language in all professional schools of the country.
Minister of Social Welfare and Youth, Erion Veliaj confirmed this on Saturday (photo) by saying that Italian language has turned into an instrument of employment for many Albanian youngsters, therefore, it has been decided for our professional schools to offer classes in this language.
"It's necessary to promote successful businesses that employ Albanian youngsters. We feel nostalgia about the '90s because we used to learn Italian from television, but today this language has turned into an instrument of employment. Therefore, Italian classes will be introduced in all professional formation centers, because we believe that this is an industry, which has the potential to create another 12 thousand new jobs", said Mr. Veliaj.
Mr. Veliaj's declaration was made during a visit at Teleperformance Albania, a Tirana and Durres based company specializing on telephone communications employing nearly 1500 Albanian youngsters.
Teleperformance is a French based international company. Today it's present in 52 countries of the world. In Albania, the company was founded in 2008. Several youngsters who work for this company say that salaries are modest and that they do not meet their needs for a life with European standards, while the company is an EU based company.
Mr. Veliaj said that Albania has become the epicenter of the main sales in the domain of energy, gas and telecommunication for Italy.
He said that "with the expansion in Greece and Great Britain, we will have more jobs for young people. /ibna/