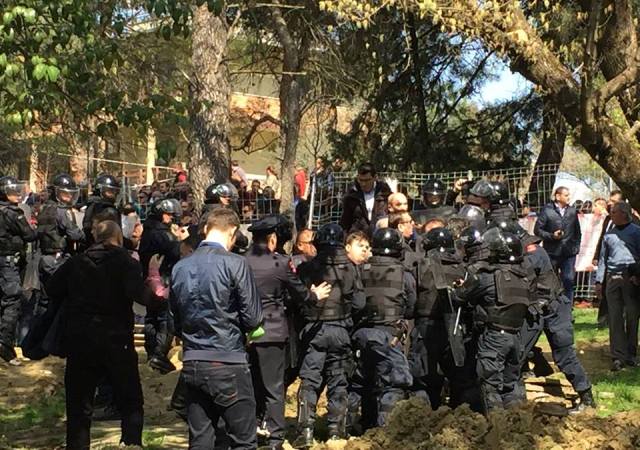 Tirana, 30 March 2016/Independent Balkan News Agency
The Albanian government has addressed to parliament which is controlled by it with a letter where it officially informs on the start of criminal procedures for several opposition MPs.
Minister of Interior, Saimir Tahiri said today that it has informed the Speaker of Parliament, Ilir Meta on "the actions conducted by Police after the events of 28 March on the hills of the Artificial Lake in Tirana, where a group of MPs of the Democratic Party carried out violent acts against Municipality Police Forces and State Police forces during an illegal protest".
The Minister has informed Mr. Meta that materials concerning several MPs have been sent to the prosecution. The nine democrats who have been indicted are Edi Paloka, head of the Democratic Party Parliamentary Group, Ridvan Bode, former minister of Finance, Asllan Dogjani, former police commissioner, Gert Bogdani, former head of a municipality in Tirana and head of the DP youth forum, Albana Vokshi, Genc Pollo, former minister of Education, Arben Ristani, former head of the Central Election Commission and former vice minister, Flamur Noka, former Interior minister and Gent Strazimiri, former minister of Interior.
These MPs were in the protest held two days ago (photo) at the Lake Park and according to police, along with protesters, they broke off the police cordon with violent acts, by injuring three municipality police officers. The indictment is accompanied with film footage, testimonies and reports from the police service. /ibna/