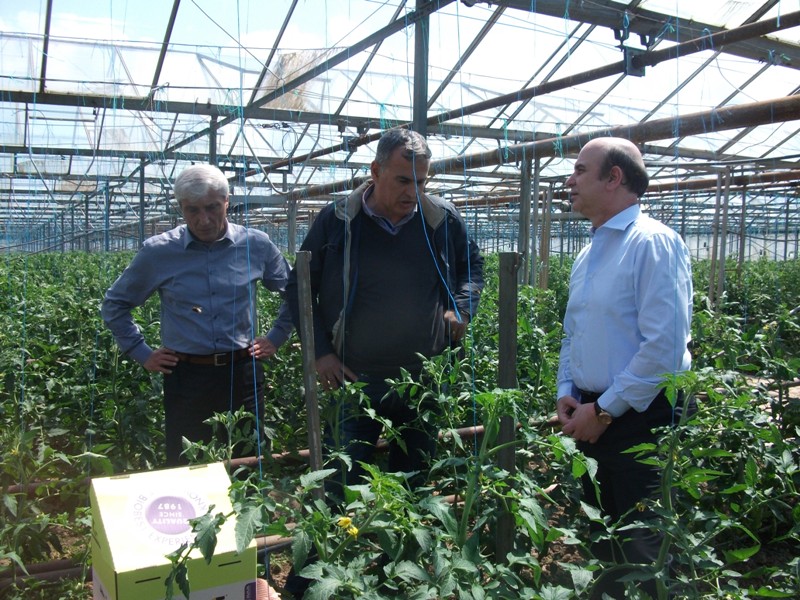 This is a technique for the pollination of vegetable and fruit flowers through bees. A natural method which avoids the use of hormones. We hear from the minister of Agriculture, expert of the field and a farmer who has started to apply the "Biobest" method
Tirana, April 16, 2014/Independent Balkan News Agency
Ministry of Agriculture has decided to fund a bio method for the cultivation of vegetables and fruits in all the greenhouses of the country. The new technology consists on the pollination of fruit and vegetable flowers through the use of bees. This is a natural method that prevents the use of hormones.
Minister of Agriculture, Edmond Panariti was today (16.04) in a farm in Kashar, near Tirana, where he has inspected the expansion of this new technology.
Ruzhdi Koni, owner of this farm says that he's into the production of saplings distributed to farmers. He says that he has an assembly point where produce is purchased from farmers. Thus, the cycle is closed, the controlled saplings are produced by his farm and the production of fruits and vegetables from these saplings goes to the assembly point in order to then be distributed in the markets of the country and to be exported.
Koni explains the pollination of the tomato flower through a bee, genetically modified to make this pollination. "It's called bumblebee, because it's bigger than the normal bee. It's sensitive to colors and quickly identifies the tomato plant, pollinates it and stimulates the formation of the fruit in a record time".
Minister Panariti (photo) said that he was impressed by this new technology. He said that the Ministry of Agriculture is committed to help farmers by financing the cost of the imported hives.
"We will start to financially support these hives in at least 100 hectares of green houses. This way, we will discourage or entirely eliminate the use of stimulants and phytohormones for pollination", says Mr. Panariti.
This method is called Biobest and is considered to be the best biological one. It was invented in 1987 and now it's also introduced as a technology in Albania. Around 7 hives for 10 hectares of greenhouses are needed for a natural pollination.
Experts say that this is the best method to abandon once and for all the use of stimulants and phytohormones for the cultivation of fruits.
According to them, this is an efficient method which guarantees bio production. With this method, the fruit is well developed, in a uniform way and the development of the plant is very good compared to farms that don't use it.
In an individual way, the new technology has now been distributed in several greenhouses in Tirana, Berat, Lushnja and Kucova. /ibna/