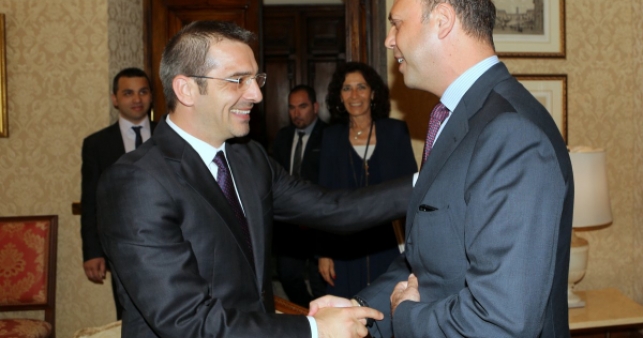 Tirana, December 2, 2014/Independent Balkan News Agency
The Albanian government has formed a special directorate with 100 experts who will exclusively deal with anti terrorism issues.
This was announced by the Albanian Interior Minister, Saimir Tahiri following a meeting that he had yesterday in Rome with the Italian Interior Minister, Angelino Alfano.
The meetings between Tahiri and Alfano is said to have been focused in further bilateral cooperation in the fight against organized crime, illicit traffics and terrorism.
Tahiri said that Albania is seriously engaged against terrorism. "Terrorism is a top priority of the State Police. In order to help with this fight, a special directorate has been formed with around 100 specialists who will address issues of terrorism", Tahiri said.
The meeting asked for exchange of information and better coordination in the joint effort between the countries of the region and EU partners in the fight against terrorism.
The Italian government has offered concrete help for the Albanian police in the framework of its anti-traffic and anti-terrorism operations.
A few months ago, aircrafts from the Italian Guardia di Finanza helped in the operation held in Lazarat, which led to the discovery and destruction of over 500 thousand roots of narcotic substances and over 100 tons of cannabis. /ibna/